The Learning Management System (LMS) choice is usually based on a number of criteria such as features availability, reporting system perfection, eCommerce tools integration, platform's usability etc.
The list can vary but there is one point that is always taken into consideration while purchasing and it is the eLearning platform's price. No matter how large the business' size and budget is when it comes to the price any owner thinks twice.
Not only the LMS price but upgrade options and terms, free trial availability, pricing model transparency (lack of hidden fees) and contract breaking terms play a very important role.
There are a variety of pricing models starting from the simplest "per user" and ending with complex and individualized. How not to get confused and choose the one that suits your business best of all? Here is an insight into LMS pricing models that will help to simplify your search and purchase process.
Pay Per User
Pay per user is the simplest and the clearest pricing model: the fee is based on a number of users you have. Usually the fee is calculated on a monthly or annual basis and the more users you have the lower cost per user will be.
When to choose: The model is well suitable for small-sized business, start-ups and entrepreneurs.
Advantages: Your fee depends on the quantity of active users. You can start small and grow shortly. You are aware of the end LMS price.
Disadvantages: One-price-fits-all 'per user' fee, what means that you still pay per features you don't use.
What to take into consideration: Unlimited users enrollment option and free trial availability, lack of hidden fees.
However there are few companies that choose a clear "pay-per-user" pricing without combining several models. For example there are some modifications:
Pay per user and pay per enrollment (courses) pricing model. Example – LatitudeLearning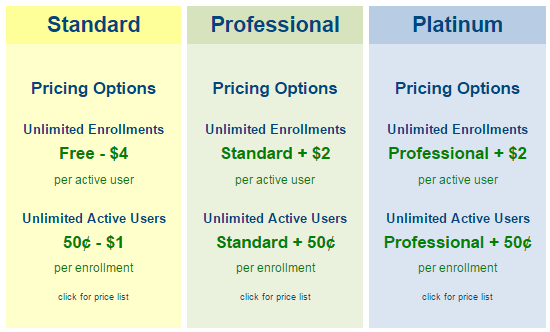 Pay per user and license validity period (one year only). Example – JoomlaLMS.
Pay per user and license validity period (yearly or monthly). This pricing model is widely used by SaaS LMS Vendors and monthly fee is usually more expensive solution than a yearly one. Example – Accord LMS.
Pay per user, a number of features provided and per license period. Usually the number of features provided increases proportionally with the quantity of active users included. Example – LearnUpon.
Pay Per Use (Pay as You Go)
Pay Per Use or as it is also called pay as you go is an activity-based pricing model. It means that you pay just for features you are using. The model is widely offered by Cloud services.
When to choose: You have a limited amount of features necessary but your user base is quite wide.
Advantages: It is a more flexible pricing model. There are no overpayments for features you don't want to use. You are in control of your spending.
Disadvantages: Difficult to predict how much money you will spend at the end.
What to take into consideration: Features cost, chances you will have to increase your payments if you decide to have more features.
Example – DigitalChalk (for eCommerce)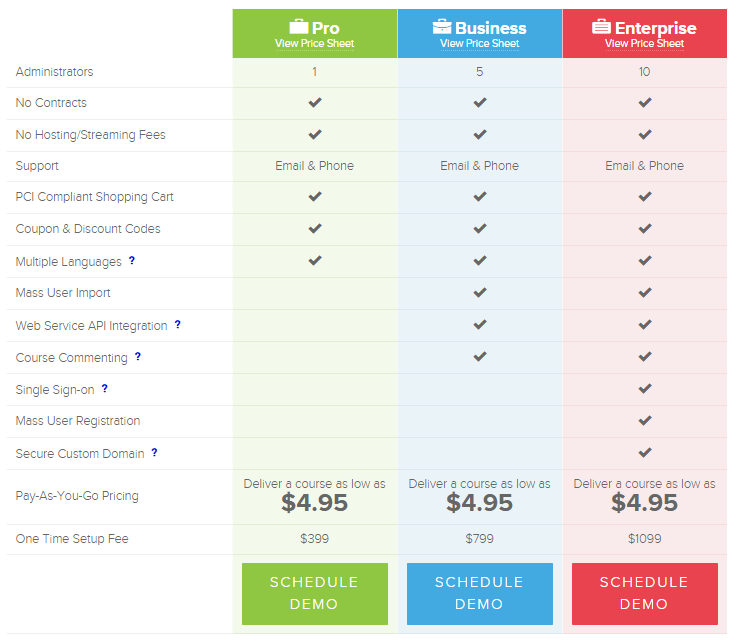 Free licensing
Free license model is offered by Moodle and some other open-sourced LMS vendors.
When to choose: When you have a limited budget and free time for maintaining the system and reading manuals.
Advantages: No initial payments.
Disadvantages: There is no support, necessity to hire an LMS administrator.
What to take into consideration: Free LMS requires adaption, customization, improvement and maintenance services that can become expensive.
Example – Moodle
Each pricing model has its pros and cons and only after a careful analysis investments should be made. If you have any other pricing models examples it would be great to know about them.