Career choice is THE most important decision one can make.
The method and support one applies in taking this decision, is often as important as the decision itself. The kind of support and guidance one receives in this process, can often form the fine line between a successful and an unsuccessful career decision. Keeping this significance in mind, we created a comparison of the main platforms available in India currently, to provide an objective, and unbiased review for the benefit of anyone seeking career guidance.
The comparison seeks to compare-and-contrast the key deliverable, of each platform across all major career guidance parameters, including the counselling process, career assessment, counselling team, and more.
Career Assessment
Career assessments form the base of any counselling activity, as they help provide a realistic evaluation of a student's abilities and strengths. Such an evaluation helps the student gain an unbiased and accurate insight into his/her own self. Assessments also aid the counsellor's understanding of the student's core set of abilities, thus painting a true picture of the unique traits and factors influencing the student's career choice and satisfaction.
There are certain key components that point to the utility and value of any career assessment – Is it comprehensive? Are the questions appropriate to the student's context? Are the elements painting a holistic picture of the student? Is the assessment scientific, accurate and reliable? Is it industry recognized? These are the questions one needs to gauge before zeroing in on the right assessment to guide the student's career.
Report
The report is the crux of any assessment, and thus can add to, or significantly take away from, the overall utility of the assessment. It forms the bridge between the student and the counsellor. Much in the same way a counsellor helps the student gain an awareness of his/her career options and developmental needs, the report aims to provide an expert's understanding to the student through the online medium. Additionally, a report may also be an instrument for helping the student take an active stance in there career, by informing about shortcomings and, plans/tips for overcoming them.
A superior assessment report can thus add a lot of value to the results of the assessment, by incorporating expert insights, and in-depth analysis of careers, in a clear and easy-to-understand format, thus, minimizing the need for an expert to interpret it. When evaluating or comparing various reports, some key determinants can be – the extent of analysis, simplicity of results, well-defined outcomes and value-additions.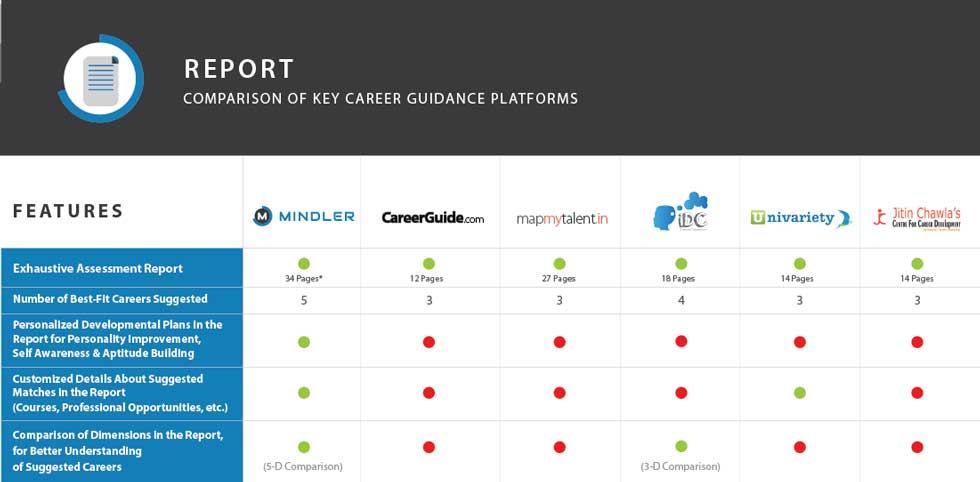 Tech-Empowered Counselling Activities
Counselling activities leverage the power of technology to add to the results of the assessment, making the counselling process more efficient, and precise. While the assessment evaluates a student on key factors for career choice, counselling activities solicit very specific and targeted information from them, relating to their daily schedule, work-style, motivating factors, academic standing, and more, to validate the student's suitability for a particular career. These factors are crucial, as they complete the holistic evaluation of the student, without which a valid career decision cannot be attained. Such focused information not only enhances the power of the assessment and the report, but also increases the chances of a successful career choice.
Counselling Process
The progression and quality of the counselling sessions plays a vital part in the counselling relationship. A student requires assistance at various stages in the career-selection process, to gain a full and in-depth insight into their career. While the interaction between a student and a counsellor can be purely transactional, and is often limited to just informing about available career options, the mark of a true career counsellor is the value-addition he/she can bring to the student's career. This level of support is what forms the key difference between a career 'advisor' and a 'counsellor'. A counsellor's support can extend during the whole career-selection process, starting from report interpretation, career awareness-building, course and colleges shortlisting, and right up till the finalization of a primary and back-up career choice.
When evaluating this factor, one also needs to look at the duration of the engagement the counsellor is willing to provide, and whether that support ranges beyond the designated number of counselling sessions. An end-to-end counselling support system can make a world of a difference when it comes to the student's career.
Long-Term Programs
There are cases where a shorter engagement with a counsellor may not be sufficient to help the student attain their desired career goals. In such situations, a student can really benefit from the presence of a coach or mentor, in the longer run, to form a stable support-system and assist in goal-achievement. Such a coach/mentor keeps track of the student's progress, course corrects wherever required, helps the student deal with obstacles and dips in motivation, supports life-skills development, and thus helps the student in moulding their career. While a career counsellor assists in making a career choice, a dedicated-coach can help the student successfully realize, and excel in the chosen career.
Knowledge Repository
No career assessment and guidance platform is complete without an extensive knowledge base of career information supporting it. A knowledge repository aims to take students beyond their limited purview of careers, and informs them about the endless career opportunities that exist in a particular field. This plays the part of equipping students with the power of knowledge to help them take well-informed and wise career decisions.
The quality of any such repository on careers thus lies in its breadth and depth, in order to present students with an accurate picture of each career. Additionally, another defining feature is its ability to keep the students aware of any new updates, trends and developments in the domain of careers, both traditional and new-age.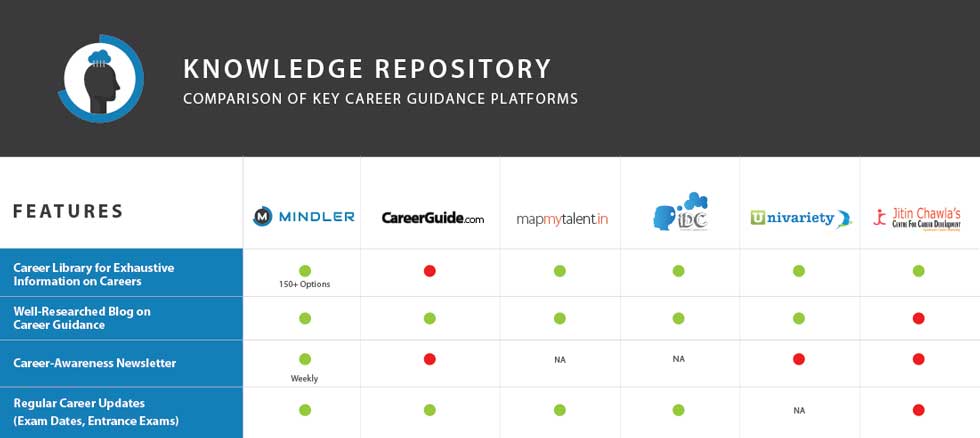 Value-Added Services
A successful career is not based on choice alone, as there are various efforts that go into creating the right profile to attract institutes and recruiters. Right from building an impressive resume to writing an articulate statement-of-purpose (SOP), a lot may be required of the student or fresh graduate. These value additions are indispensable in today's educational scenario where a student is expected not only to excel at the academic front, but also to showcase a well-rounded, and remarkable profile. Individual efforts, supplemented by the right assistance and guidance, can thus, go a long way in accelerating one's career.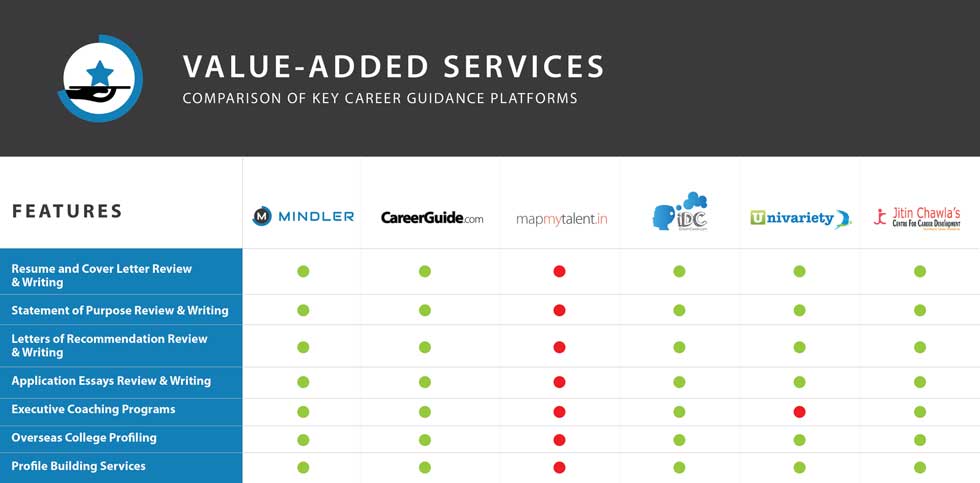 Team
The power of any career-guidance platform lies in the team that drives it. The team's expertise and breadth of knowledge can complement and steer the strength of technology powering it. The counselling team's extent of knowledge, years of experience, professional and educational backgrounds, industry and domain specalization, all need to be taken into account before deciding on a platform's merit and value. Furthermore, a single person cannot be expected to master several fields, and thus when it comes to career counselling, strength lies in numbers and diversity. A diverse and versatile team can prove advantageous for providing cross-domain knowledge, experience, and insiders' perspectives into various careers.
*As on June 6th 2017
NA – Not Available *- Highest in the industry **- Available in long-term programs
Disclaimer – The information for this comparison report was collated through the official websites of each platform, assessment reports, and through telephonic conversations with representatives of the companies, wherever data was unavailable.
We have tried to ensure its accuracy and precision to the best of our ability, and have tried to maintain an impartial stance at every level.
In case you encounter any unintentional errors or misrepresentations, kindly email them to us at hello@mindler.com with supporting links/documents, and we'll do the necessary changes.
This first appeared on MINDLER website here.
Disclaimer: It is strictly an independent research of the writer and his company, not a representative of EdTechReview. The statements, opinions and data contained in these publications are solely those of the individual authors and contributors and not of EdTechReview and its editor(s).