As a former student, I always felt a thirst and urge for new knowledge and information.
I liked to read, analyze, reflect the material in my writing, be challenged and inspired by the knowledge that had yet to come my way. These were wonderful years. Now, as a teacher, I like to do all of those things surrounded by my own students.
Every day I try to start the lessons with some exciting information piece or a fact that can spark interest in the class and become the cause for the subsequent investigation, deep discussion, or even, a debate.
I taught kids the language and literature for over 8 years, experimented with different methods, techniques, which, of course, increased the effectiveness of learning to some extent.
Still, something always was unsettling about the workflow. It was the timing that I never managed to fit in with all my ideas and plans.
The new applications that I found are among those, that really worked for our class, they eliminated the time for grading, revision, and gave my students a little more independence in learning.
1. Questioning students in 30 seconds
Using Plickers as a mobile app, we print the cards with QR codes. Each child is given one card. The card is square and has four sides. Each side represents an answer (A, B, C, D).
As I ask the question, the kid raises the right side up, then I scan children's answers in real time and store them in the mobile app for the further grading.

https://newtonew.com/uploads/media/cache/resize_616/uploads/ckeditor/Plickers_Classes.png
2. Revising the essays originality
I was lucky to find Unicheck plagiarism checker the moment it first popped up on Google Classroom's featured app list.
An automatic system just scans every assignment the moment a student attaches it to the course, then lands it on my email.
The cool thing is, they also offer "essentials" subscription for free in my area.
Now, after the integration, I'm sure no one is cheating in our class as the checker scans submissions through the Internet, open access repositories and my own database of assignments.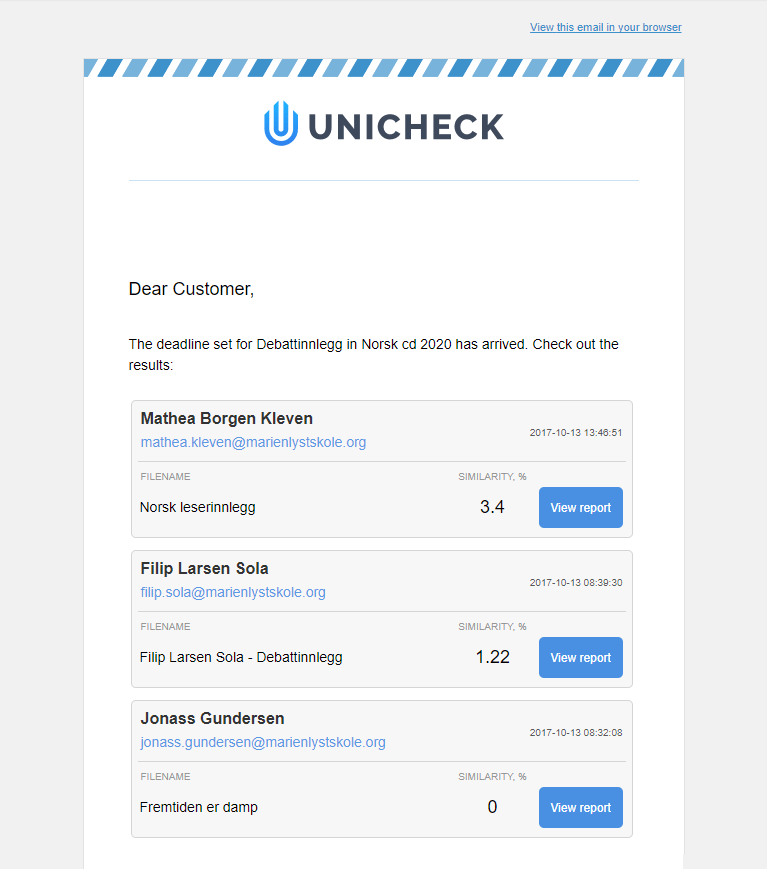 3. Immersive language practice
I want to believe, my students are the smartest ones in the school, but also I want them to enjoy learning. Just when you go past the point of total grammar perfection, it turns out, you become bored, it happened with my students.
After I suggested students using HelloTalk app, they plunged into an opportunity to talk with people from all over the world, using their own gadgets.
Very soon we were all discussing the "native speaker" delicacies together in the class.
4. Leaving no one out
Surely, 18 students do not make the smallest or the biggest classroom in the world, however, this was enough for us to experience difficulties when it came to explaining something important.
As we use Google Classroom, Nearpod was a great solution with a help of which the class now enjoys all the lessons broadcasted directly to the class's screen and their own devices.
No room for unexplained or missed information is now left in our class, everything is recorded and can be repeated once more.
https://ipadyoupad.files.wordpress.com/2014/02/screen-shot-2014-02-25-at-10-09-28-am.png
5. 3D Field tripping
Field trips are no longer the matter of budget for our class, now, that we have a good opportunity to practice them on the screens.
Discovery Education is the app that I usually use during the classwork, then it is followed by writing reflective essays as a homework.
With 3D trips enabled by Discovery Education, my students almost literally visit most famous places of the Earth, let it be NASA's Goddard Space Flight Center, Louvre or Kilimanjaro.
http://www.blackboard.com/resources/k12/discoveryk12/img/screen-1-lg.jpg
6. Writing in different genres
I teach students to write, not purely for the sake of writing, first of all, such practice makes them think critically, analyze and evaluate information independently.
No matter what it is, evaluative essay or the thesis for their dissertation, I made sure my class nailed different types and genres of writing with a help of video lessons held by the industry experts at Study.com.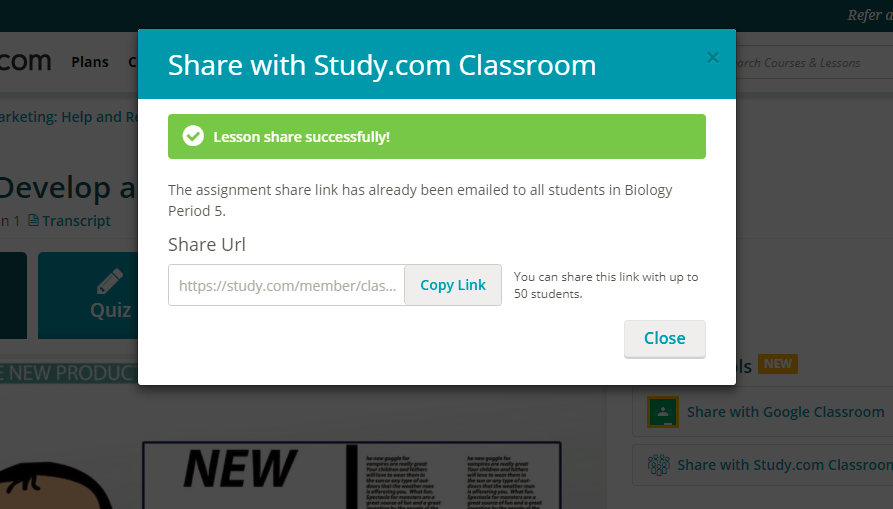 https://s3.amazonaws.com/cdn.freshdesk.com/data/helpdesk/attachments/production/11023797863/original/aVOQ-Ke9NFT2xQPyNs6aUf0OArS7zHsaQw?1509398984
7. Learning through movies
My students love literature, they like watching and reading but sometimes it takes me long to get them talking about what they've processed.
Engaging my students through video documentaries that Documentary Heaven has to suggest, has helped me encourage conversations within classroom.
Popular educational institutions like MIT, Stanford or Yale place there there the history documentaries and supplemental materials, and, I hardly can recommend something better in terms of socially valuable topics for classroom discussion.
http://static.feeddigest.com/thumbnails/648×365/d/documentaryheaven.com.png
8. Choosing the career path
The closer to the high school, the more students will approach you with questions about their future specialization.
There are so many options, how to choose one of them and determine your career path is not always obvious, even for the grownup.
After we've listened to several Coursera's courses in the class, some of my students reported to be greatly impressed, and, it seems like we've got a bunch of new candidates, ready to embrace a career of future literature experts.
The last word
There is no "right" way using which you can organize the workflow as a teacher, all will depend on your own mission, peculiarities of your students, and the result you want to achieve.
I was looking for digital helpers that would make the students work more independently, without loading me with extra-time for results interpreting.
Technology that I applied was accepted in my class with an awe, it transforms the way we learn, it accelerates the way we move forward. Now my class is an interactive surrounding where everyone can participate or contribute to the actual learning process.
What are your favorite teaching tools? What have you learned applying them in your classroom? Please, share your valuable experience in the comments.