I'm a promoter like many others of CoderDojo, a global movement of free, volunteer ­led, community­ based programming clubs for young people where kids learn how to code, develop games and apps, play with 3D printers, Arduino and Raspberry Pi boards, exploring new technologies in an informal and creative environment.
So in these years I've been able to examine in depth thematics and perspectives strictly tied to the world of education basically addressed to youngsters. My daughter's teacher knowing about my free activities on digital literacy I promoted on the territory a couple of years ago approached me proposing convincing reasons to receive my technical support and experience in her classroom. She said, smiling: "If you don't come and help the entire class I can think to reject your daughter…" In view of these very valuable motives I brought in her primary classes many aspects of the makers world so dear to EdTechReview such as tinkering, coding and STEAM activities.
At a certain point we noticed every kids at school talked about Minecraft and the only ones being in the dark were us, the adults. In a moment where it is difficult keep the entire class vigilant and for a long period of time we asked ourselves: "Why don't we try to introduce Minecraft in the didactic?" In addition to this reason we decided to use Minecraft also because it is universally acknowledged as gender inclusive tool thrilling in the same way boys and, I stress, girls. Furthermore Minecraft has the same potentialities that they have holding in your hands a box full of toy bricks and then open it: but here bricks are unlimited and endless are the possibilities to arrange them as they want. The very only limit is the creativity and the imagination of our kids: so infinite for definition!
For a long whole year we appreciated the eclecticism of Minecraft, but we felt like we were missing something: what about the tinkering activities and physical experiences as little makers of our kids ? So we started a long journey looking for a way to mix traditional learning activities, those ones I call 0.0, with new technology, and I eventually found the missing link. During a Minecraft event in Rome I met with the founders of the child­friendly social network Creatubbles.com, whose aim is to showcase the creativity of young people all over the world.
Creatubbles allows children to share creative projects with other kids around the world. In order to do this it has a few rules for the security of children online. Only original creations are allowed, and all images or videos which show any type of images that could reveal the child's identity are blocked before being published. A child's account is connected to and overseen by at least one adult. Before being published, all written content first undergoes an automatic check to block any inappropriate language and later awaits direct approval by the adult who oversees the child's account. All images that are uploaded undergo careful checking, and must be approved by the Creatubbles team before being made publicly visible.
Creatubbles noticed that young people were increasingly taking screenshots of what they had made in Minecraft and uploading them to the platform. The thinking being: "I've created a digital construction in my Minecraft world, I like it, I've spent a lot of time on it, and I want to share it with other children."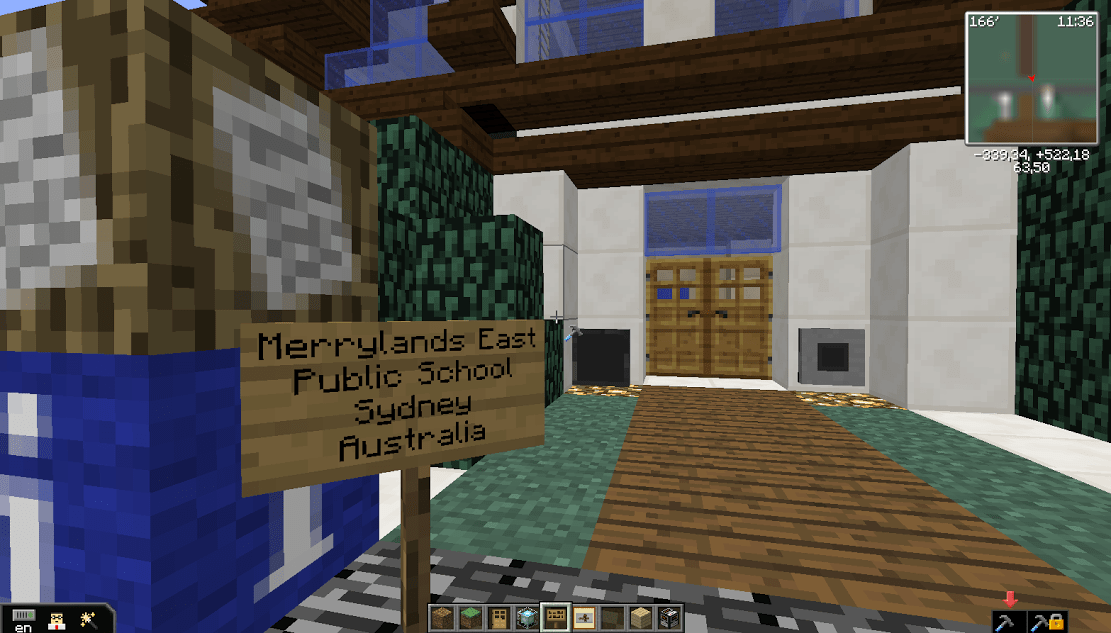 So why not create a Minecraft mod to interface directly with Creatubbles, and save Minecraft builds without having to leave the famous game of pixelated cubes? Why not make it works both ways? This allows children to showcase the physical creations they have uploaded to the platform within the game itself. From the virtual to the physical, and from the physical to the virtual, full circle. What better way to bring together old practical skills with the possibilities of Minecraft? Our children's creations in Minecraft were already amazing. Now, they also have the ability to customize them further with objects that they've really created in the physical world.
What better way to use the best­selling PC game of all time together with drawings and paintings, artworks and other physical objects as a result of creativity, curiosity or tinkering activities: isn't that a great way to promote steAm activities and let kids get closer to art ? Have you ever seen how TATE Modern museum of London decided to allow kids to "enjoy artworks like never before" exploring "imaginary worlds inspired by famous paintings and the real­life places they depict" ?
http://www.tate.org.uk/about/projects/tate-worlds-art-reimagined-minecraft
http://www.tate.org.uk/learn/bpartexchange/bp-art-exchange-minecraft-online-exhibition/bp-art-exchange-minecraft
Interesting, isn't it? But let our kids be the real protagonists; let them use their physical artworks in their virtual Minecraft worlds. They don't need to be still passive spectators in the age of the new technologies and they should also discoverer the beauty of the ART.
And again what about if we move our server from the classroom to the cloud and share it with several schools and after­school activities from all over the world ? We tried to contact educators, teachers, Minecrafter and art lovers using the most important social networks, inviting them to join, at the same or different times, the virtual world (built by Solary experts), meet each other and share creations in the project we called "International Minecraft Art Gallery". So far we have attracted schools from Canada, China, USA (Colorado, Nebraska, New York, Minnesota, North Carolina, Virginia, Alabama, Hawaii), Brazil, Switzerland, Pakistan, Japan, Vietnam, Australia, Poland, Croatia, Nigeria and South Africa. What a perfect example of collaboration and educational exchange between children and young people at a low cost.
The students have been invited to create art about the town, city or country where they live, and share it in one of the eight art galleries built within the game. Every class have the ability to meet up in the same virtual place: those taking part can then walk around the world viewing the artwork of the other children, and if time zones permit, chat with each other in real time, exchanging ideas and emotions through 'artistic' creations made by the children themselves.
The aim is to show our children that other young people in the world, who may even come from a different culture or social class, have a different language, are a different age, or are very far away in a different country, they are nevertheless all related by virtue of the creativity and of making things. They have a way of sharing with each other the beauty of the places in which they live, by showing, through art, what their own countries or cities look like. Even living in a tiny village, such as Allumiere (near Rome in Italy where I live), kids can now share their creations and interests with other young people who have their same desire to learn about the world.