Location is a key parameter in this age of mobility. But unfortunately not many are thinking of making its use for a purpose like Skilling.
Distinguishing from the growing number of other location based apps, this startup wants to make a mark in the skill space (broadly). The app has a strong use case for people to connect and partner with other people sharing similar skills nearby; and also to connect to teach or learn a particular skill. Finding this purpose as a good sign for success, we interacted with Arjun Khera, CEO, Skillmate to know more about what their startup journey looks like.
What would be an elevator pitch for someone who does not know about your product?
Skillmate is a marketplace for teachers, learners and partners. It's a location-based lifestyle app that provides people a platform to connect over skills. From photography to calligraphy, cycling to salsa – users can find friends nearby to share their interests with. The app works on three pillars – Teach, Learn and Partner. Teach a skill, learn a new skill or partner for activities of interest with other Skillmates.
How would you define your company's core value proposition? What problem are you solving and for whom?
Presently, the market of recreational skills is condensed to channels like Facebook groups, hobby-class listing websites and apps aimed at providing professional services. There are several issues that crop up while using these.
1) Teachers are not given the option to find students. It is always prospective students that approach a teacher.
2) The distinction between professionals and hobbyists further divides the market. Not every good cook has to be a chef to teach his or her signature dish to someone. This opens doors to talented students, freelancers, and homemakers to teach their skills to others nearby.
3) Endless forms both for teachers and students, followed by a cluttered system of connecting the two.
4) Academy listings do not allow the user to know who or how talented their teacher is before enrolling for a class. There is a lack of one to one connect here.
5) Difficulty in finding partners nearby for fun activities and pursuing common hobbies.
Skillmate addresses these issues through its nuanced design and a Tinder-styled UI that makes it possible to find and connect with teachers, learners, or partners in less than thirty seconds. All information is provided on the profile card of the user – Name, Age, Availability, Fees, Ratings, Reviews, Images of their work, Portfolio link. Once a skillmate is found, a user can chat-in-app to connect directly. The flow requires no detailed form filling and no sharing of phone number or email id. The app gives talent a platform to showcase skills to the world, gain popularity and socialize with people over skills.
Also, the ability to partner with others – for activities like running or swimming – is a niche segment in the app market. Currently, few applications allow users to find and socialize with people who share interests and to carry over this connection seamlessly to the real world. With Skillmate, users can find a partner for any activity quickly and spontaneously.
What's the plan to check on the user satisfaction?
Ever since we conceptualized the idea we have been constantly in touch with our potential users. Over the course of product development we continuously engaged with our target customers – teachers, learners and partners, through one on one meetings, phone calls, interviews, surveys etc. to understand how Skillmate could better solve their present issues, potential challenges they foresee, address security and 'intrusion' concerns and at the same time have certain 'convenient and desirable' features. We have a highly contextualized search algorithm and features like 'Trust Meter' for profile verification to ensuring credibility, skill wise ratings and review for users and as well as 'Report' and 'Block' features to weed out non serious or inappropriate users.
It is due to these efforts, the final product has been rated very favorably by customers on account of ease, UI/UX aspects and other features.
Now post the product launch as well, we would want to keep improving, building a product for the future and hence, will continue with our bit of user engagement and satisfaction research. We also have an in house analytics team that studies user behavior and interaction with the app. We closely track the reviews and ratings of the app on the play store and make sure we have a quick response time to address any customer queries.
What is the driving passion, why are you passionate about this product? What is your vision going ahead?
The motto – Connect Skillfully – summarizes the vision behind the app. To carry over connections beyond the online and to create communities based on coming together and doing something fun.
What is the stage of the product? Where do you see your company in 12 or 18 months from now?
We launched the basic version of the APP on the google play store in July this year and are presently focusing on getting downloads through organic route. We are headed to the 5000 download mark now while maintaining our current rating of 4.9 on the Play Store. We were fortunate to win the Times App Search Contest prior to the launch of the product.
Going ahead, we would be coming up with the IOS version by November this year. We are also planning to expand user base in other major cities of Bangalore, Mumbai, Pune, Kolkata, and Chennai in the next 12-15 months. We expect a user base of around 500k by that time. Simultaneously, our revenue models, also in the pipeline, are to be introduced later this year and we expect profitability close to 15 months of operation.
Given all of this, we would have dedicated teams for Product, Technology, Design and Marketing with a total organizational size of 20 members.
What is the biggest need for your startup?
The biggest need for our startup is to raise funds for expansion of team, scaling and marketing activities, operational setup, and geographical expansion.
Tell us about your team, who do you have supporting you? How did this start?
The founding team comprises of Arjun Khera, Anil Khera and Gitanshu Soni. Arjun, Founder & CEO, is an alumnus of LBSIM and has a streak of winning ideation contests like LG Smartphone Idea Camp. Mr. Anil Khera is the COO and has close to 30 years of experience with big banners like Wipro, ATOS and NIIT. Gitanshu, Marketing Strategist is an Ex-KPMG and an MBA from Great Lakes Institute of Management. The tech team is led by Saurabh Singh, a DCE graduate who considers coding to be his creative exercise.
It all started when a friend, who moved to the city from Bangalore, told Arjun about his inability to find someone to pursue photography with. That's when the idea of Skillmate came to him. To test the idea, the team did a survey of 200 college students that astonishingly revealed that close to eighty percent of them had problems finding someone to share skills with. Even more, many wanted to learn new skills but ranked inconvenience a major deterrent. That's when it struck, when technology can get you a potential date with a swipe, why not a skillmate.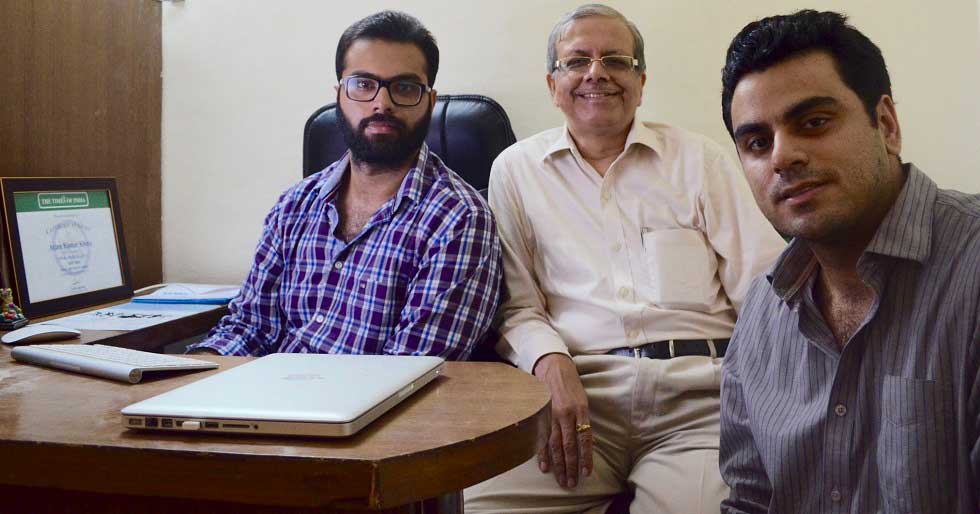 What/Who motivates you? Any thought leader or companies with innovation which you follow for success?
Different people, entrepreneurs and public figures have been motivation and inspiration at different times.
A quote from Steve Jobs' that inspires us: "Innovation distinguishes between a leader and a follower."
We also love what Drew Houston, the founder and CEO of Dropbox had to say, "Don't worry about failure; you only have to be right once".
Or it could be the stories of entrepreneurs who really believed in their vision. Not just success stories but also journeys of determination, hard work and perseverance. Inspiration for us is everything, anything, anyone that we can take something positive from.
Who would you call your competitors? And how are you different?
The key competitors include hobby-class listing websites (Justdial, Skill Kindle), apps aimed at providing professional services (Urban Pro, Urban Clap) and likes of Meet up.
Skillmate is different due to its nuanced design and a Tinder-styled UI that makes it easy to use and connect with teachers, learners, or partners in less than thirty seconds. It is the first to feature the partner category that enables you to buddy up with a badminton partner nearby.
It aims to remove deterrents while selecting your teacher/learner or partner by providing smart demographic filters. It also offers a first year free registration to teachers across categories. Add to that, the platform is open to all i.e. from a musician to an academician, from a photographer to a salsa dancer. There is also a strong emphasis on privacy and protection from intrusion i.e. one doesn't get calls or messages all day. We share no personal data.
What are the biggest challenges of your startup?
We did extensive research prior to prototyping in order to understand what the users want. At least 80 percent students surveyed said they had problems finding a partner to engage in a common hobby. 75 percent said they wanted to learn something new, or teach something they knew and earn some money, but didn't know how. 90 percent said they would prefer someone who lived nearby to engage in a hobby.
The major deterrents for users were proximity, credibility and trust. The challenge was to provide a feasible solution to such issues through our app while ensuring that it is convenient and fun to use.
We overcame this challenge by taking a user-centered design approach. A clean UI/UX and apt functionality allowed us to give the users an option of selecting their apt skillmate.