HRTech solutions have become a vital element in recent years. The transition to digital HR solutions has enabled organisations to optimise human resources efficiently. Social, mobile, cloud and analytical technologies are a few examples that have redefined how the HR sector operates. The Human Resource industry has evolved over the past few years and undergone unprecedented changes. There has been an increasing push for a diverse workforce, Artificial Intelligence (AI) & Machine Learning (ML) introduction, and growth. HR professionals have upgraded their work habits and enhanced their skills to address their needs.
The tech adoption in HR is evident in the fuelling of funding deals in HRTech. As per hrtech.in, the first half of 2022 witnessed investments amounting to US$9.3 billion globally across 250+ deals in HRTech startups. In H1 2022, Indian HRTech Investments amounted to US$353 million, with Keka being one of the top-funded HRTech solutions.
In this post, we've attempted to clear the air on HRTech solutions and the upcoming HR management and technology trends for 2023. 
What is an HR Tech solution?
Any tech solution that automates the function/s of the HR department and makes the HR operations efficient can be classified as an HR tech solution. HR Tech solutions include web tools, digital platforms, and cloud-based technologies that securely store data, provide analysis for effective decision-making, and automate day-to-day processes. PWC's HR Tech Survey 2022 reports that most organisations prefer to use HR technology to "succeed in future work". Web-based HR platforms/software helps manage critical functions such as payrolls, recruitments, employee communication, adaptation, productivity management, benefits, employee tracking and more. Automating these crucial functions helps in saving cost and time, thereby allowing organisations to focus on other vital functionalities. Another advantage includes reducing the possibility of human error.
HR Management & Technology Trends for 2023
Blockchain Integration
The critical function of the HR department is building the right workforce. Blockchain can be one stepping stone in building the right workforce as it can help prevent fraud on sensitive information like employee records. Since blockchain is controlled and restricted even for those with access, there's a bleak possibility of any arbitrary changes. This ensures that employee records are safe from external hacks or internal frauds.
As per APQC (American Productivity & Quality Center), the top three adoption drivers of blockchain in HR are:
Need to improve transactional transparency
Increase transaction speed by reducing clearing and settlement time
Automating or simplifying business processes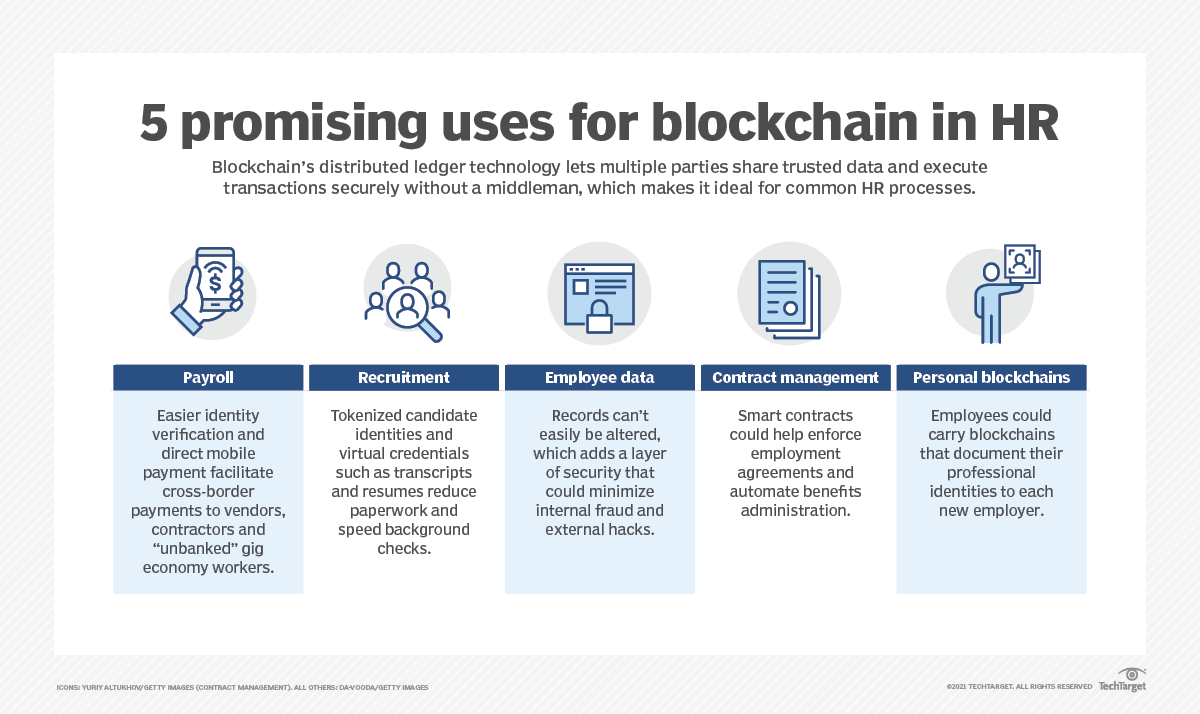 Blockchain integration will help HR managers achieve primary goals such as standardisation, trust and security. Here's how:
Standardisation: Blockchain improves collaboration between talent departments. The talent departments then can provide recommendations to programmers, thus enhancing the quality of human resource systems.
Trust: Blockchain protects data from unauthorised access. This ensures authenticity in records, and only relevant parties get to access consistent data with no scope of a data breach. Many initiatives, like the Trusted Global Network for HR Data, ensure that only the appropriate parties have access to this data.
Security: Implementing blockchain provides enhanced safety in managing vast amounts of confidential data pertaining company and its employees.
AI Penetration in HR
The IEEE Global Study reports three critical tech changes in 2023, namely, artificial intelligence &machine learning (21%), 5G (17%), and cloud computing (20%). Another IBM research predicts, "Over the next three years, the adoption of AI will increase from 40 to 80 per cent in the HR sector."
In the coming future, AI will help businesses find applicants, analyse resumes, and onboard new hires more quickly and accurately. Since these processes will be automated with AI, more and more companies will be able to save time and money.
"IBM artificial intelligence technology is now 95 per cent accurate in predicting workers planning to leave their jobs. IBM HR has a patent for its "predictive attrition program", which was developed with Watson to predict employee flight risk and prescribe actions for managers to engage employees. I won't explain "the secret sauce" that allowed the AI to work so effectively in identifying workers about to jump. Its success comes through analysing many data points. The AI has so far saved IBM nearly $300 million in retention costs." – Ginny Rometty, CEO, IBM at CNBC's @ Work Talent + HR Summit.
Technology that elevates hybrid working
Hybrid working has been a preferred choice for most employees since the pandemic made it the standard way of working for all professionals. Global recruitment firm Robert Half conducted a study that reports that every 1 in 3 professionals (34%) currently doing WFH (work from home) since the COVID-19 pandemic would look for a new job if required to be in the office full time.
Further, 2023 will introduce flexibility and tech solution demands in the following three aspects:
People: HR managers will look for seamless communication and cooperation between in-office and remote employees. This also raises the need for tech that bridges all the work-related needs of employees scattered across hybrid models.
Places: Analytical platforms that inform teams about the commercial real estate value in markets across the country, place availability, available options, and more.
Scheduling: Innovative tools and tech solutions that ensure seamless planning and fulfilling responsibilities and have required restrictions in place.
A focus on employee well-being
Burnout is real, and an increasing number of people have experienced its ramifications regarding their mental and physical health. A 2022 McKinsey Health Institute (MHI) study surveyed over 15,000 employees and 1,000 HR decision-makers across 15 countries. The report highlights how the impact of the pandemic witnessed burnout levels reach an all-time high, with one in every four employees experiencing symptoms of burnout.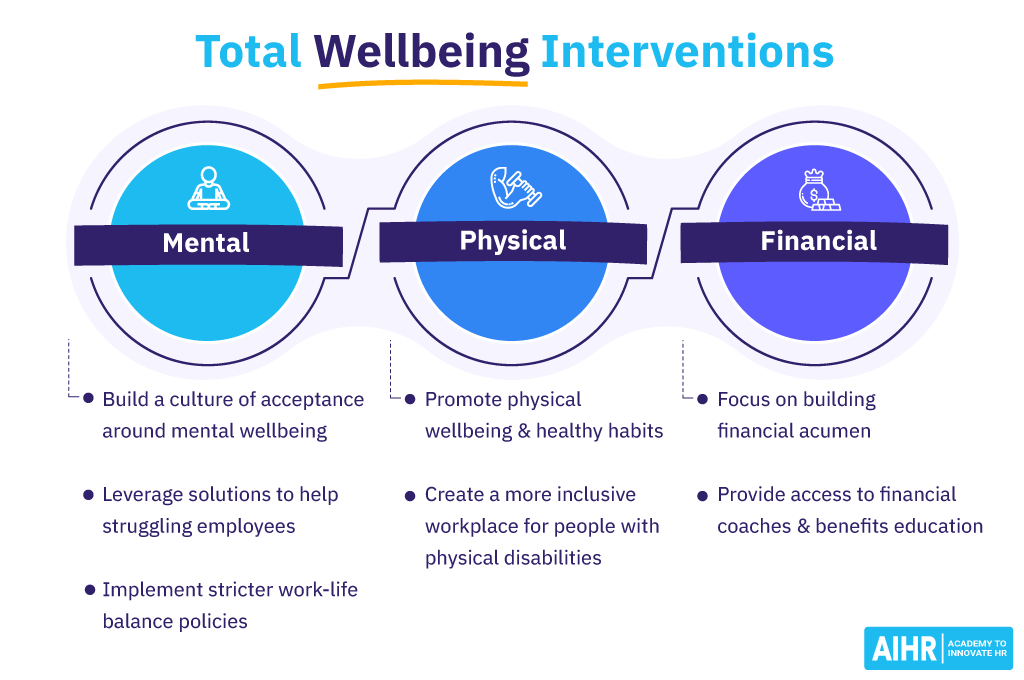 In 2023, organisations will take more responsibility for this emerging burnout crisis among employees across businesses. Further, we expect HR departments to move towards a proactive approach to well-being and resilience. This includes developing a holistic employee well-being approach focusing on physical, mental, and financial well-being.
Companies will be investing money in improving the well-being of employees and ensuring they feel ready to tap into new challenges and opportunities.
Selection Software Review outlines that HR technology trends 2023 would focus on the following:
Creating an atmosphere of psychological security: companies will work towards building a culture where everyone feels safe to express their views on work and career-related conversations without the risk of reprimand.
Stress relief policy development: there will be a focus on policies like employee help programs and flexibility in work hours where employees get ownership to plan their working hours and rest time.
eLearning, Upskilling, Reskilling, Training, and Professional Development
The pandemic helped professionals grow and get out of their comfort zones. Many people have learned new skills and given their careers new directions. Now, people are more open to learning for new opportunities
HRs in 2023 will create more opportunities for training and retraining their workforce through digital learning. New business policies will be in place where people will be allowed to share files and resources and seek support for professional development.
Work-based learning helps employees stay motivated and encourages them to achieve their professional and personal goals. Besides these, the following are two more important HR technology trends for the coming year.
Knowledge Management System (KMS): HR managers will ensure that organisations have knowledge management systems where employees can learn quickly and have all learning documents structured and easy to find.
Lead to general well-being through the L&D program: By simplifying learning ways through knowledge management, you will help employees focus on what's significant and eliminate information clutter. This will help employees' well-being by reducing stress while providing them with a fulfilling work and learning experience. This will also improve business health significantly, giving an edge to well-performing organisations on all social parameters.
Compliance with Diversity, Equity, Inclusion and Belonging (DEIB)
One of the key benefits of the hybrid work era is companies get access to more skilled and diverse talent. Diversity, Equity, Inclusion and Belonging (DEIB) compliant hiring will bloom in 2023. Companies will aim to create a work environment that will help people bring the most out of themselves and is suitable for the new era of work. There has been a mindset shift among employees, and they no longer see their work as a rewarding job. Instead, the focus is more towards purpose, well-being and accomplishments.
Data shows that diverse management teams and perspectives drive stronger returns. At @fernbrookmgmt, our founders are 60% Female and 33% BIPOC across both funds. The GP is 50% female. #DEI

— Fernbrook Capital Management (@fernbrookmgmt) January 4, 2023
HRs will be working on the following areas to improve employee sentiment:
Develop a clear and two-way communication strategy where employees and employers will be in sync with all the necessary information.
Expand continuous listening
Devise ways for frequent checks between employees and managers.
Redefined role for CHRO
CHROs are responsible for taking care of the entire workforce. The COVID-19 pandemic has expanded the work sphere of CHRO, and now they're a part of the board leading discussions on business continuity, business policies, and employee safety and productivity. Further, the CHRO is responsible for environmental, social, and corporate governance (ESG) goals at the organisational level. 2023 will be the year when CHROs will have many feathers in their cap and solidify their position as a vital part of the board.
It is time for HRs to step up to the plate and capture the opportunities 2023 brings. The future HRs will be required to reposition themselves as a business leader and an indispensable element in building competitive people capabilities and a robust workforce.
2023 will be marked by the true power of HRs: driving strategic impact through people.