According to 2019 Survey of College and University Admissions Directors, 52% of colleges couldn't meet their enrollment targets by July 1st this year.
Also, only 37% were able to achieve their goals by May 1st. As the pressure grows and deadlines approach, enrollment reps at every corner struggle with the same challenge. What's the solution?
While the admissions teams own the entire enrollment funnel, it's marketing that must continuously feed the top. Let's discuss how you can get the best out of both your teams to reach the finish line before your competition.
Understand the student/parent psyche by tracking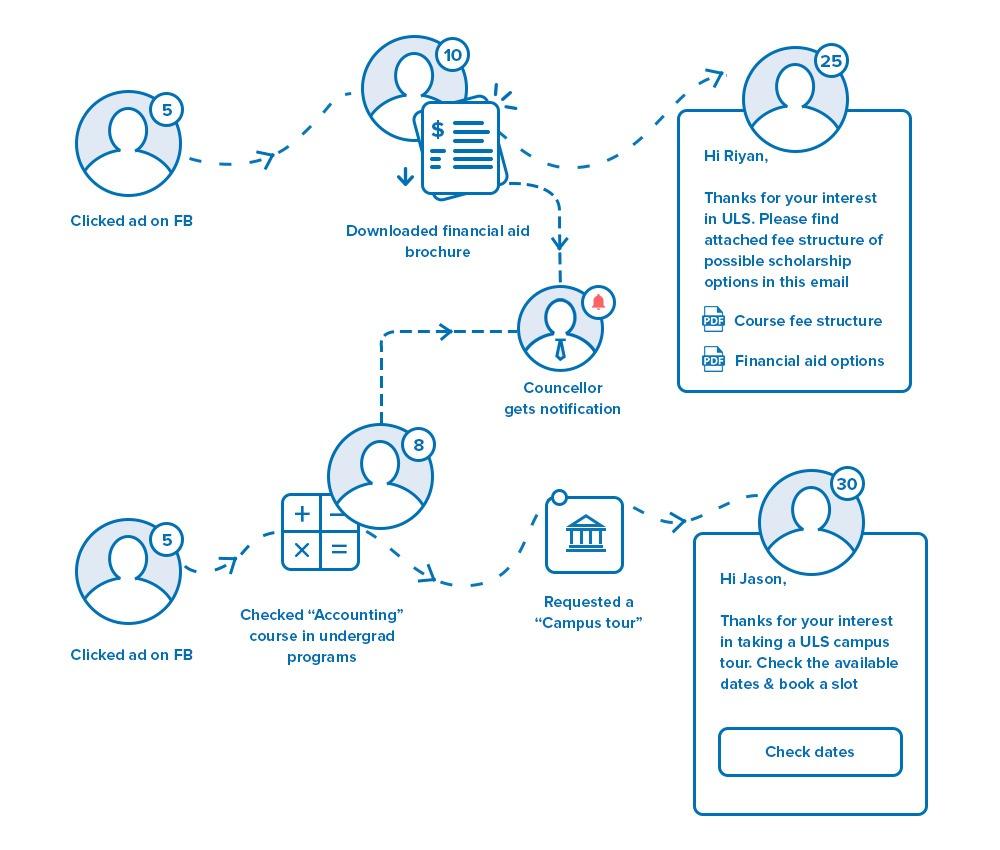 Choosing the right college for higher studies is certainly the most important career decision for a student (and by extension for his parents, because they are the ones bankrolling the fees). You must understand that, before filling the application, a student will research thoroughly on various third-party websites & social media, consult agents, talk to college alumni's and take campus tours. They would also engage with the enrollment reps and seek their support constantly during this entire process.
Anticipating the students' questions at each of these points and helping them along the journey would be what helps you stand out. For instance, check the image above – understanding and responding to student queries instead of sending them generic responses would help you gain their trust.
Use this knowledge to engage them and influence their decision.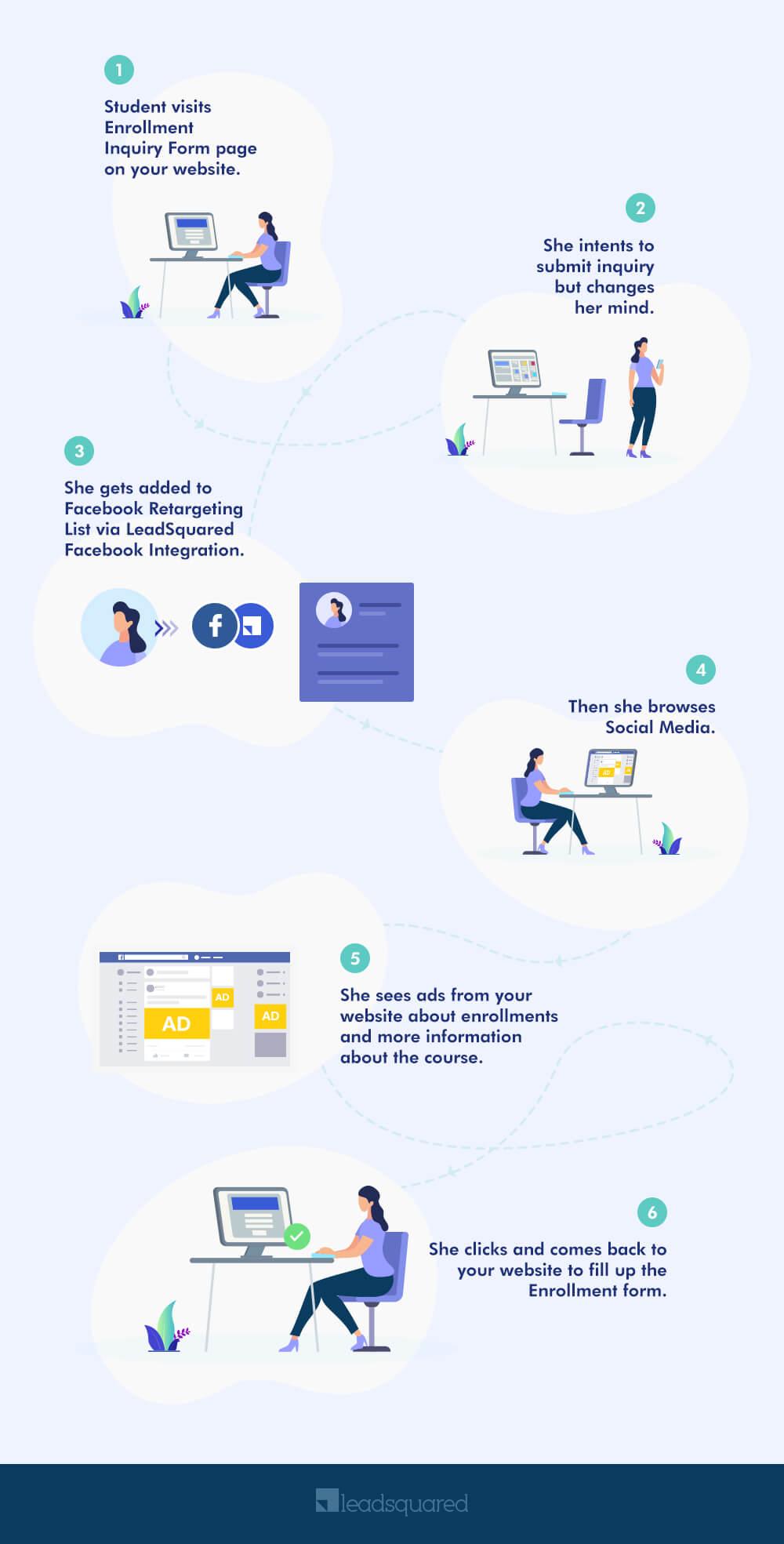 By the time you reach out to a prospective student, they are already halfway through deciding the college, course and campus they are interested in. It's important at this point to showcase what differentiates you from all the other colleges on their shortlist. Show the students how they can upskill and reinvent their career in your institution, and why they should choose you, instead of everyone else.
A fast and continuous communication with the students can help you convert them into enrollments faster than your competition. The use of remarketing techniques can help you engage those leads, which might have gone cold before making any decision. For eg. a student who dropped off while filling up the application form for a course can be retargeted with specific ads related to that course.
Leverage the right technology at the right time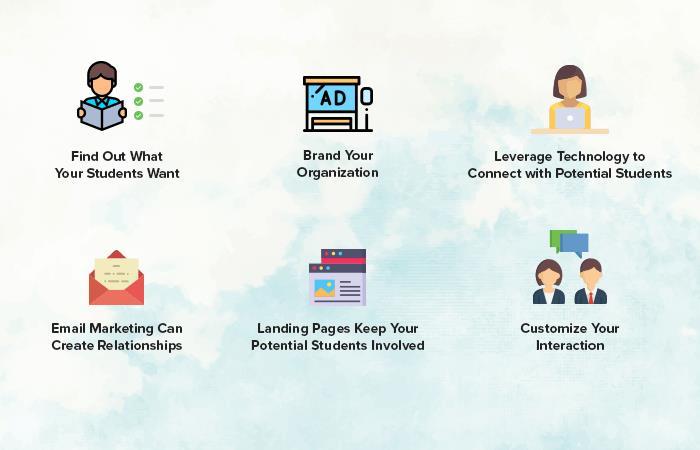 Admission process can be very tedious. The right technology can offload some of your teams' work, and help your prospects get rid of the never-ending queues and long waiting hours. An end-to-end education CRM platform can help you do quick follow ups before your competitors, to recruit the best candidates for your institute.
A CRM platform should be easy to use for the admission reps, so that they can benefit from the same. Choosing a CRM which will eventually increase your teams' efficiency and performance must be your priority. Any tool that you choose must help your admissions team to automate all their manual tasks for timely and fast follow ups, thus saving your time and money. To name a few, you should be able to capture, distribute and prioritize enquiries, using the automation feature of your enrollment management process.
Use reports and analytics to track your performance
As soon as the admission season comes to an end, admission reps all over the world become anxious to know if they've hit the mark. Enrollment analytics and performance reports can help you get over this anxiety. Knowing where you stand in the enrollment targets can help you take a more aggressive approach in the application cycle.
You should be able to pull out reports based on campus performance, lead source performance, application analytics, enrollment analytics, admissions and marketing team performance, best performing recruitment channels, response time analytics and many more. Know at which stage and in how much time an applicant is dropping off with detailed application lifecycle report. If you are struggling to pull out reports or you are missing out on any of them, LeadSquared is one such platform which can help you do the math.
Conclusion
Reaching enrollment targets on time will not be a herculean task if you have the right strategies and the best tools. To sum it up, you have to be in contact with your applicants until you are not 100% sure of losing them to your competitors. Afterall, if you're not interested, then why would they be? Hopefully, these tips will help you in conquering the low enrollment rates for your institution and provide you an edge over your competitors.