In the recent 5 years, China has enjoyed a rapid growth in EdTech and online learning both in the private and public sectors.
The driving forces include favorable government policies, abundant venture capital, active entrepreneurial activities, consumption upgrade, fast-growing mobile internet penetration and the fact that Chinese attach great importance in education.
Increasing Government Spending on Education
The goal of the government's `13th Five Year Plan` (2016–2020) for education is to modernize education, to provide greater opportunities for lifelong learning for all citizens, to increase the education quality in all aspects, to improve the abilities on talent delivering and higher education innovation, and to have a more mature education system.
One of the important goals is to achieve the digital transition in education and learning. Budget in ICT and EdTech has been increasing, reaching 275 billion RMB in 2015 (~40 billion USD). Policies were announced to speed up the development of ICT infrastructure, broadband Internet connections, Cloud LMS, Ed-SaaS and EdTech products adopted in schools. By 2015, more than half of the schools in China have achieved broadband coverage, multimedia classrooms, and online learning space. The first-tier cities have achieved 99% coverage. By 2020, broadband coverage will reach almost all schools in China.
Venture Capitalists Bet on EdTech
After the explosive growth seen in 2015, China's venture investment in EdTech (or in technology in general) became more rational in 2016. Though figures have dipped compared to 2015, China still raised 10.6 billion RMB (~1.54 billion USD) across 167 deals. The most funded companies in 2016 covers area such as Ed-SaaS providers, K12 tutoring, and 1-on-1 English learning. (For more data on investment deals and trends, feel free to download our reports by JMDedu)
However, in 2016, the number of M&A cases in EdTech China has increased from 20 in 2015 to 65 in 2016, reaching 4.48 billion USD, presenting an 182% year-over-year increase indicating investor's higher interests in M&A activities and premium valuation of education assets in China.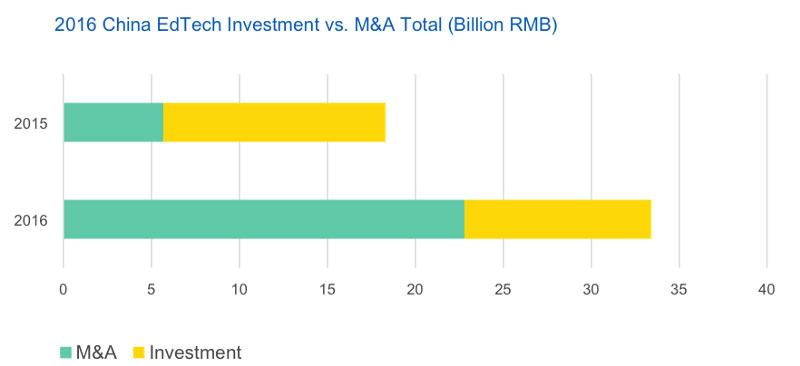 Chinese Learners Are Willing to Pay For Online Learning
The large student population, high-stake exams, anxious parents, and fast-moving society, all have contributed to a prosperous education industry — both children and adults expect education to bring them a better future. Moreover, recent years have seen the consumption upgrade, which means families are paying for a higher price for high-quality commodities, in all aspects of life in China, which also includes education. (Feel free to download our reports for a deeper analysis of Chinese learners and education market segments.)
In addition, online learning has become increasingly accepted by Chinese learners, reaching more than 100 million with an annual growth rate of 13%. At the same time, Chinese learners are increasingly willing to pay for carefully curated and high-quality learning content and services online. 70% of the online learners surveyed have paid for obtaining knowledge in 2016 compared to only 26% in 2015. Half of the online paying learners have spent more than 300 RMB (~43.6 USD).
Want to learn more about China EdTech Market? Feel free to download our 54-page industry report that gives you a valuable insight and in-depth analysis of the EdTech ecosystem in China for the past 3 years.
A quick glimpse on what's in the report:
14 graphs and tables to deliver the 3 key drivers that fuel the rapid growth in China EdTech.
An in-depth dive into each of the 6 sectors in China education industry
A detailed description and strategy analysis of the 14 corporate giants that shape the EdTech transition.
A comprehensive explanation index for 50+ giants, unicorns and rising star companies
This article first appeared here.