In today's world where everyone and everything is reaping the benefits of technology, how can the education system be far behind?
Technology-driven learning is the new thing and is overhauling the Indian education system both qualitatively and quantitatively. India, being a country with an abundance of people, has a very archaic education system which needs massive systemic reforms. The fact that our global education ranking has slipped to an all-time low of 93 only goes to confirm the claim.
Indian education system has always faced criticism for being synonymous with "examinations" and "marks", and having little to do with skill-development. That is why, with time, more and more students opt to go abroad for further studies after completing their under/post-graduation in India. The Indian Education system has been time and again called out for not producing skilled professionals. This statement is hurtful, and especially for a country as populous as India.
India has an enormous appetite for quality education, and many entrepreneurs are coming to terms with this fact and tapping the previously untapped market of Edu-Tech. Eckovation, Flygrades, and SWi are just some of the Edu-Tech ventures. But, a more significant question presents itself now: are these startups capable enough to transform our education system? The short answer is – yes, they are.
We're not the ones claiming it, the statistics say so. The above image comprehensively summarises the rapid growth our country has seen in the usage of smartphones and smart technologies like internet and cloud. As of now, India has a billion people using a cellphone with over 300mn people connected to the internet. This figure is likely to soar up to 550mn by the end of 2018, and even more in the years to come. All of this points in one direction – we have an immense potential to educate the masses digitally. In fact, the past couple of years have seen a substantial rise in such interactive online learning platforms at different levels of learning. With Big Data and related cloud technologies evolving and becoming a part of the education industry, the Edu-Tech sector has witnessed a rapid rise in enrolments.
The accessibility and affordability of these online classes have entirely overhauled the face of the Indian education system. The amalgamation of technology and education has brought forth something that nobody thought would be so impactful. There's an overwhelming increase in the number of mobile-connected devices, global data traffic, and mobile video traffic; and the Edu-Tech sector is leveraging precisely this. In today's world, we're just a click away from gathering whatever knowledge we need to keep pace with the latest developments. Edu-Tech companies are taking one step further by developing data-driven education technologies, which is not only changing the way our schools and colleges function but also helping professionals acquire new skills quickly.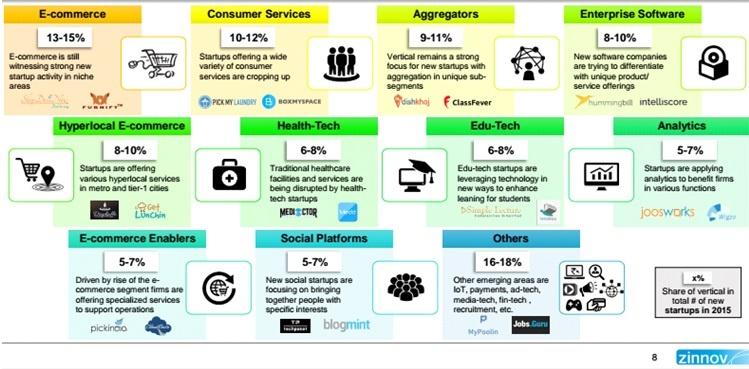 The above figure shows the breakdown by segment of 1200 new startups in India. Edu-Tech startups make up for 6-8% of the entire lot; and this figure is only going to soar up in the years to come.
One way the Edu-Tech sector is using digital medium to spread education is by using live interactive classes. These classes allow the students to get trained by specialized instructors through live broadcasts which they can watch at their homes. Clearly, this is no less than providing high quality education and comforting on neither the student's comfort, nor the quality of education. These digital learning platforms provide various unique advantages like video content delivery, student-to-student live conferencing, and virtual updating of content – each of which helps a student get personalized attention. These technologies have the ability to take students out of the confined classrooms and engage them in newer methodologies of learning.
These Edu-Tech platforms also allow the students to study offline, that is, the students can access the content offline or even in internet connectivity as low as 100kbps. Digital Learning is bringing a substantial qualitative difference in the methods of imparting quality education to the whole of India including rural, semi-urban, and urban areas alike. Rural India took some time to wake up to the Edu-Tech resources, mostly because of infrastructural challenges, but even that issue has been resolved with time.
Because of the extensive digitization in the world today, the demand for quality education, and consequently for these platforms is increasing rapidly. The accessibility, reach, and affordability are the main reasons people are switching to these modes of gaining education. Imagine staying in your room and attending a live-classroom that's being conducted by the professors of your dream college? Yes, online learning lets you do that.
Gone are the days when you needed to religiously visit classrooms six days a week to acquire a coveted certification. With numerous certifications available online, ranging from Data Science Certifications to Digital Marketing Certifications, it's a breeze to get yourself certified now. (However, it still requires the same hard work you'd put for an offline class). Now, to answer the question we posed at the start of this article – Yes, the Edu-tech startups have the potential to transform the way education is imparted in this country.
UpGrad is an online higher education platform providing rigorous industry-relevant programs designed and delivered in collaboration with world-class faculty and industry. Our co-founding team includes Ronnie Screwvala, Mayank Kumar, Phalgun Kompalli and Ravijot Chugh.