Technology has become a crucial element in modern human existence. Our digital devices are our constant companions, keeping us always in touch with things and people we like. This connection with technology has become so intimate that it can get overwhelming to get a perspective on "how much technology we really NEED."
Are we gaining more from technology than we give to it, or can we balance this equation?
To help you answer these questions and more on how much technology is enough and needed, we've compiled a list of books on digital minimalism to help you navigate the age of algorithms.
Digital Minimalism
Choosing a Focused Life in a Noisy World
Many books on this subject give common tips on how to minimise internet usage by reducing screen time, restricting social media usage, and others to make your device less enticing. These are helpful tips to a great extent. In this book, Cal brings a fresh perspective. He asks readers to go nuclear with their phones, delete all the apps except those necessary for work and communication, and make their smartphones "classic hard phones" for at least 30 days.
This experiment may come off as harsh at first, but it's more like "rewiring your brain and cleansing off the idea of the dependency on the new-age apps" we have created. Excessive digital exposure has led us to lose track of time and control over life. It seems that we are constantly dictated by our smart devices and have unnecessary distractions that deviate us from the reality of life. The book will compel you to ditch your old digital habits and start afresh with things that add value and contribute undiluted benefits to your life
The book has a 4.4 rating with over 300 reviews on amazon.in and amazon.com.
Here's a quick look at the book's contents:
Foundations: A lopsided arms race
Digital minimalism
The digital declutter
Practices: Spend time alone
Don't click "like"
Reclaim leisure
Join the attention resistance
A great follow up read from #stolenfocus with so many suggestions that I've implemented already. 🙌 This is another must read, for everyone! Thank you @leisagrace for the recommendation! 🙂 #book #BookClub #digitalminimalism #technology pic.twitter.com/w5NbTBYjBp

— Noel Tuohy (@noelhtuohyedu) July 30, 2022
About the Author: Cal Newport 
Cal Newport is a computer science professor at Georgetown University, and a writer who explores the intersections of technology, work, and culture. He has authored seven books, including, A World Without Email, Digital Minimalism, and Deep Work. His books have been translated into more than 40 languages. Newport also writes for the New Yorker and hosts the Deep Questions podcast.
Ten Arguments for Deleting Your Social Media Accounts Right Now
The book shares insights into how social media works and how people are falling prey to its cruel and dangerous effects at the heart of its current business model and design. The author offers ten simple arguments to liberate you from social media's addictive hold. He also proposes a vision for an alternative to social media that will provide all the benefits of social media except harm.
The book has a 4.5 rating with over 3200 reviews on amazon.in and amazon.com.
Here's a quick look at the book's contents:
Introduction, with cats
You are losing your free will
Quitting social media is the most finely targeted way to resist the insanity of our times
Social media is making you into an
Social media is undermining truth
Social media is making what you say meaningless
Social media is destroying your capacity for empathy
Social media is making you unhappy
Social media doesn't want you to have economic dignity
Social media is making politics impossible
Social media hates your soul
Conclusion: Cats have nine lives
About the Author: Jaron Lanier 
Jaron Lanier is a world-famous Silicon Valley scientist-pioneer. He is known as the father of virtual reality technology. He has extensively worked on the interface between computer science and medicine, physics, and neuroscience. He coined the term 'Virtual Reality' and founded VPL Research, the first company to sell VR products in the early 1980s. Lanier is a well-known author and speaker. The Time Magazine named him one of the 100 most influential people in the world in 2010.
The Joy Of Missing Out
Finding Balance In A Wired World
Rather than talking of tech abundance, Christina Crook addresses the issue poetically. She questions, "How does the internet serve you? Is it connecting you — truly — in ways that bless and enliven your life and the lives of others?"
The book will take you through the real good stuff of life while making you question your virtual activities. She points to offline activities that make life largely present in the world – making a meal, walking with a loved one, spending time with family, gardening, and more such activities that are slipping away from our lives due to excessive technology consumption. Her work prompts philosophical reflection urging us to embrace "good burdens", as she explains them as "the responsibilities that tether us to people and the physical world".
The book has a 4.2 rating on amazon.in and amazon.com.
Here's a quick look at the book's contents:
Personhood: The Greatest Tablet in the World
Information Overload: How We Got Here
Better Off?: Yes, BUT
Dusting Off the Dictionary: Why Definitions Matter
Introduction to part two: Presentness
Why Fast from the Internet?: Finding What Sustains
Gaining the Time: Implementing Constraints
Quitting the Comparison Game: Reclaiming Delight
Coming Close: Trust
Introduction to Part Three: The Way Forward
Reorienting a Life: Learning Our Lessons Longhand
Little Eyes and Ears: Leading by Example
Making Space to Create: Discipline Is the Path to Freedom
Hereon in: Check in, Check Out
Conclusion: This Will Be Joy
It all began with a letter.

Did you know that The Joy of Missing Out was inspired by a 31-day technology fast I took 10 years ago?

This November, I'm revisiting the letters and reflecting on a decade of pioneering work in digital well-being.

Join me?https://t.co/sp8VUbyGbh

— Christina Crook | #JOMO (@cmcrook) October 12, 2022

About the Author: Christina Crook
Christina Crook gave up digital media for 31 days to understand intentionality, presence and technology. She has been studying the relationship between joy and technology for over a decade. Crook is an essayist and TEDx speaker passionate about art and culture and writes about the same for the "UPPERCASE" magazine. She spends her days in the all-consuming company of her three adorable children.
Hello World
Being Human In the Age Of Algorithm
Artificial intelligence can be intimidating. It either makes us dream of a paradise or ponders our imminent extinction. Living in a world of code, the book is a face-off between the constant dilemma of AI's true powers and the limitations of the algorithms that have automated most of our decisions. Mixing mathematics and storytelling, the author explains how artificial intelligence fits into modern worlds and our lives.
The book has a 4.6 rating with over 1500 reviews on amazon.in and amazon.com.
Here's a quick look at the book's contents:
Power
Data
Justice
Medicine
Cars
Crime
Art
About the Author: Hannah Fry
Hannah Fry is an Associate Professor in the Mathematics of Cities at University College London. In her day job, she uses mathematical models to study patterns in human behaviour. Hannah has worked with governments, police forces, health analysts and supermarkets. Her TED talks have amassed millions of views, and she has fronted television documentaries for the BBC and PBS.
Privacy Is Power
Why and How You Should Take Back Control of Your Data
An Economist, BEST BOOK OF THE YEAR, "Privacy is Power", shares powerful insights on how we have given away our privacy easily. From waking up to an alarm and checking the phone first thing in the morning, how the device takes away the information. The book dives deep into how every touch and scroll on the screen gives data to a host of organisations benefitting without our permission or even sheer awareness. The book will help you reclaim the power of privacy. If there's one book you want to read on navigating through tech times, make it this one.
The book has a 4.4 rating with over 300 reviews on amazon.in and amazon.com.
Here's a quick look at the book's contents:
Data Vultures
How Did We Get Here?
Privacy Is Power
Toxic Data
Pulling the Plug
Yesterday I finished reading #PrivacyisPower by @carissaveliz. If you've just watched The Social Dilemma and are newly curious about how your data is used, or have ongoing concerns about the role of tech in your life and society, this book is one not to miss! pic.twitter.com/XIYsWkGIQX

— Kate Kirkpatrick (@philosofemme) October 9, 2020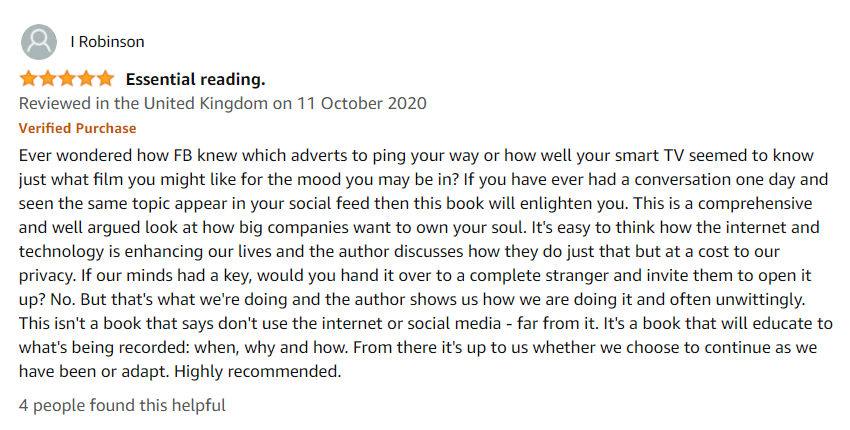 About the Author: Carissa Véliz
Carissa Véliz is an Associate Professor in Philosophy at the Institute for Ethics in AI and a Fellow at Hertford College at the University of Oxford. Her areas of expertise include privacy, technology, moral and political philosophy, and public policy.  She is a Research Fellow at the Uehiro Centre for Practical Ethics, the Wellcome Centre for Ethics and Humanities, and Christ Church at the University of Oxford. She is the editor of the forthcoming Oxford Handbook of Digital Ethics.
While reading books can help you understand the dynamics of technology and its widespread presence in our lives, we recommend applying what you learnt from these books in real life.
Stay tuned for more informative posts.