How do we learn a new concept?
By reading, by observing, and, most importantly, by practicing, and in the process, committing a few mistakes. Whether it was the first time you rode a bicycle or attempted making a new dish, or merely hitting the car on the road. All these were 'experiences', good or bad, that took you an inch closer to learning and then mastering a new concept. Only by engaging your various senses, such as hearing, seeing, feeling, smelling, and even tasting, that you came close to the reality of what it's like to perform something important.
The aforementioned concept is known as 'experiential learning'. This article engages in highlighting the growing adoption of experiential learning across various stages of one's learning trajectory, from kindergartens, all the way to corporate coaching. Having been part of such programs myself and conducting several of those, across levels, I do understand that some of the best-designed programs have a high degree of experiential learning component. Let's discuss more.
Research suggests that one's mind processes incoming information from its various sources, maps it to the extant repository or concepts, and then stores the information in the most parsimonious manner. Now, those who have above average memory power, or the ability to think in an associative manner, have indeed managed to create denser and highly active neural networks. This incoming information is quickly and seamlessly connected to the existing network, and with time, such networks grow and it becomes increasingly convenient to locate a spec through its multiple pathways.
With an enhanced stimulus, such as that from multiple sources, touch, see, smell, taste, et cetera, the various sections of the brain get lit-up. Not only that a wider cross-section of the brain is then put into use, but also the networks are now highly redundant, and hence it is now easy to retrieve information. That's what aids learning.
There are science labs in schools, workshops in engineering colleges, case studies in management education, and role plays in executive coaching. All these are yet more sophisticated forms of experiential learning. Here students learn from a situation, with each other, and by engaging multiple of their intellectual faculties.
Let me share an example of an educational setup which I am engaged with for quite some time. BRAINSTARS, an educational startup that engages with Grade one to eight education in science and mathematics by adopting highly creative methods. For instance, through one of their products "NumberNagar", the team offers learning spaces for students and teachers alike on elementary and even complex concepts in trigonometry, mensuration, algebra, geometry and other maths-related nuances.
Learning space for NumberNagar
At the startup, there are over 20 mathematics labs engaged in various levels of sophistication, dotted across India, and two independent learning spaces where students, teachers and parents can engage in hands-on learning and have fun with mathematics. On similar lines, BRAINSTARS also has labs for science and social sciences, in attempting to shape our students as holistic learners and explorers.
In another context of experiential learning, let's look at one of India's oldest and largest Industrial Training Institute (ITI) located in Bangalore. With over 23 trades, the six decades old ITI is identified as a role model institute in India, and in equal measures remains a key centre of attraction for students and corporate alike. My recent visit to the institute, located near Dairy Circle in Bangalore was a revelation on how kids in their late teens are made into expert tradesmen in disciplines such as electrical circuits, welding, automation, refrigeration and air conditioning, etc. All this comes from experiential learning, where students spend almost four hours a day doing practical in labs and getting their hands dirty.
Take for instance the state-of-the-art Institute of Electricity and Energy Management setup with generous sponsorship from Schneider Electric. The labs are meant not only to train the students but also teachers from the incumbent ITI and others in the city. I saw teachers and trainers engaged in animated discussions and exercises in understanding the elementary concepts of electrical circuit designs and power systems. For me, the lab was far better than what I have experienced at several Engineering Colleges across India. Perhaps, that's what differentiates skills and knowledge, and experiential learning, converges knowledge to generate skills.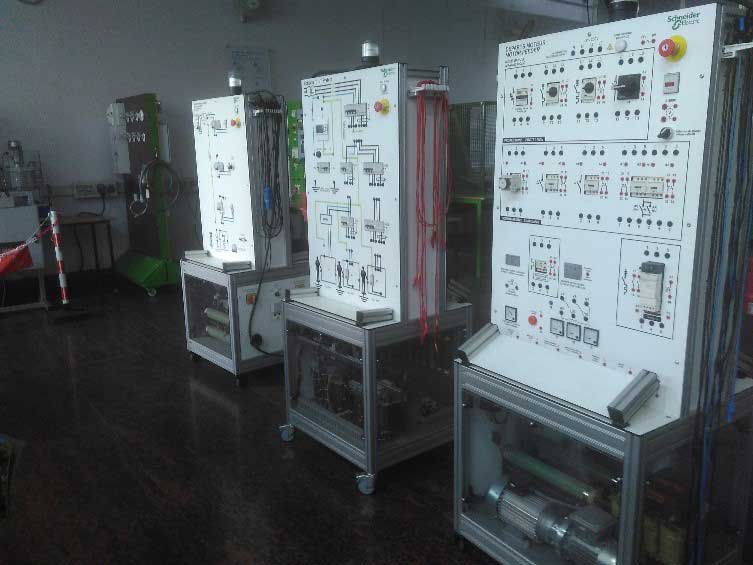 Teachers getting hands-on learning on elementary electrical concepts.
The bigger task for the entire Indian education system remains to engage our students in a manner that enriches learning experience and is impactful at the same time. Experiential learning has shown to offer a lead in this direction, and with the advent of learning spaces, now, teachers and students alike can literally try their hands on new concepts.