Learning a new or foreign language needs time and dedication. Fluency in the second language offers a lot of opportunities to the speaker. It provides intellectual, practical as well as self-improving benefits. No matter whatever your age is, being multilingual or bilingual gives a lot of advantages.
In this era of web technology, learning a different language is easier. With so many apps and platform available online, you can yourself learn. CultureAlley is one of the platforms that can help you learn Spanish, Mandarin, Portuguese, Hindi or Punjabi. This guide will help you to navigate through the CultureAlley platform.
Getting Started with CultureAlley
CultureAlley uses your Facebook login as its kick start lesson using five new words present on your Facebook wall. In the example, I have picked Portuguese language.
First Stage:
The platform will connect your Facebook wall to help you to practice a lesson.
You will learn single word by listening and then identifying the word for practicing. Here you will get five words.
Second Stage
The second stage contains small lessons teaching users grammar of the language by translating small sentences. The lesson contains voiceover with text in English. Therefore, it is important to command on English to take advantage of this platform. In this lesson, users also learn the relevance and facts about the language they are learning.
The lesson consists of translation, grammar tip, pronunciation tip and quiz after a mini lesson. Lesson looks like:
And at the end of the quiz, you will have a review note.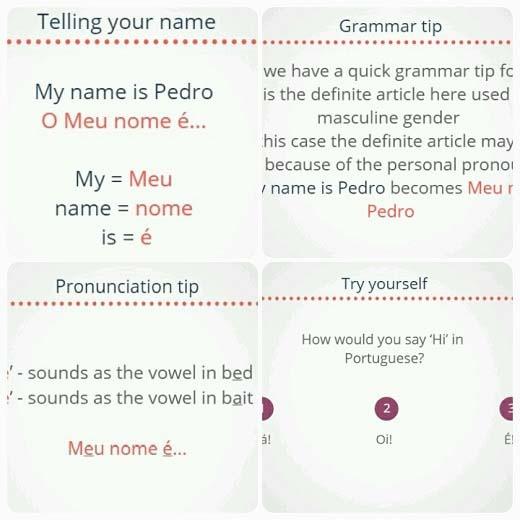 The lesson goes on…..
With these amazing lessons you will learn to meet & greet and introduce yourself, discuss hobbies, make friends, talk about family, shop, ask for directions, etc.
How much does it cost?
Culture Alley is a free resource that anyone can use. Users can get:
Free registration
Free self-study modules in the library
Free interactive practice!
Full of these features CultureAlley is loved by over 400000 learners:
Audio-Visual Lessons: Learn Hindi or Punjabi, Spanish, Mandarin with easily understand, expert narrated, hand-curated lessons.
Logical Structure: Every concept is explained and simplified using the most instinctive manner to evade any force memorization.
Essential Grammar: While learning lessons, you will also get essential grammar lessons.
Interactive Practice: Practice games enable users to masters them in lessons, also gives instant feedback.
Smart revision: On CultureAlley, you will also find out lesson for revising the lessons, you have learnt.
Personalized Vocabulary: All the vocabulary that users go through in every lesson gets saved in a customised wordlist custom made for you.