The global edtech community is witnessing amazing growth as EdTech startups solve for different needs of students, teachers and administrators.
The education sector provides numerous opportunities for founders to innovate within the sector, and one such crucial aspect of learning businesses is assessment. With the mission to transform assessment, the JoeZoo team is seeing opportunities across different segments of the education industry.
In an interaction with JoeZoo founders Rakesh Kamath (CTO) and Carl Mascarenhas (CEO), we learned about their astounding journey of building a smart assessment company and impacting the way schools think of assessment.
What's JoeZoo
JoeZoo is an Educational Technology (EdTech) company on a mission to transform written coursework assessment for K-12, Higher Education, Tutoring and Adult Learning markets.
They have created 'smart' assessment technology that, when added to Learning Platforms, like G Suite for Education, instantly transforms assessment to be student-centered, frees teachers from hours of grading and auto-guide students to build literacy and assessment skills, independent of teachers.
Problem & Solution
Written coursework assessment has been broken since 1998. Despite going digital, it remains excessively manual, 'dumb' and repetitive, taking 19 valuable teacher hours away from their students and families, per assignment.
As a result, students receive insufficient practice and feedback to master essential writing skills. Want proof? Student writing literacy has been stuck below 30% since 1998. (Nations Report Card, 1998-2015 NAEP)
JoeZoo is fixing assessment's 21-year problem holistically for teachers, students and schools.
For teachers, their 'smart' assessment tools provide a feed of Assessment Intelligence, while grading, to help them increase student engagement and reward their improvements, while our Workflow Automation frees them from most manual feedback and grading tasks.
For students, their 'smart' assessment tools make teacher feedback more actionable and rewards them with digital skill badges, autonomously, for each improvement they make in Literacy and Assessment Skills.
For schools, JoeZoo provides actionable Literacy Data for each student, year-round, using their existing apps, learning platforms and coursework, eliminating their dependence on unactionable standardized test data.
Users/Clients working with JoeZoo + Impact
JoeZoo is transforming assessment at 13,955 K-12 schools in 114 countries. They are growing by 8 schools per day, exclusively by teacher discovery and word-of-mouth.
Since launching their premium products in September 2019, they have received 1775 school pilot requests and are now working diligently to fulfill all of them.
JoeZoo team is on a mission to transform assessment, hence prioritizes educator coaching and support, and uses these interactions to collect feedback and feature requests which drive their monthly app updates.
To ensure school-wide adoption and usage of JoeZoo provides thorough web coaching as part of each school pilot and scheduled web coaching, year round, as part of our paid contracts. To date, they have maintained a 5-star user support rating and many written commendations for their support quality and responsiveness.
Founding Team, Early Days & Support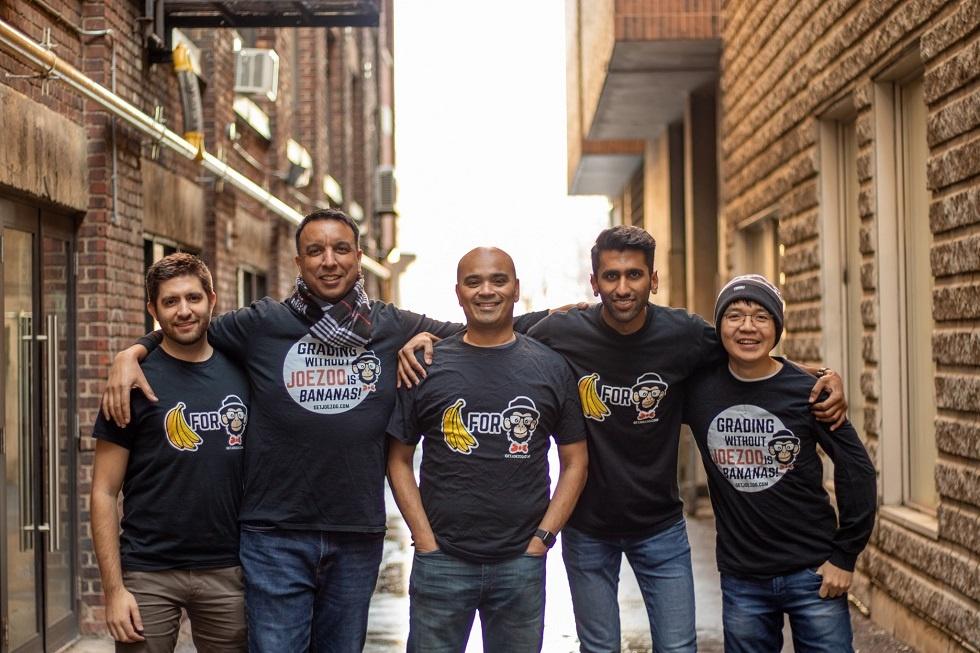 (L- R) Ivan Puljak, Carl Mascarenhas, Rakesh Kamath, Sarib Mahmood and Le Huynh
JoeZoo, named after the Japanese word 'jouzu', meaning 'to be skillful', and was founded by 10-year friends, Rakesh Kamath, CTO, and Carl Mascarenhas, CEO.
"In 2016, we just wanted to help our 4 teacher friends – Andrew, Esther, Ben and Jason – spend less time grading so they had more time for family and friends (us). While we gave the original app to only them, they couldn't keep it a secret, sharing it across their school boards and now 5.6 million teachers and students have it," shares Carl.
Rakesh brings 18+ years of software product engineering leadership, and is the reason JoeZoo has won technology awards for Learning Assessment. JoeZoo has also been shortlisted for the Reimagine Education Award for Learning Assessment.
Carl brings 20+ years of startup and people leadership, and is the reason JoeZoo is loved by the 5.6 million people it serves, inside and outside the company.
The team is coached by top EdTech accelerators – MaRS, NYU StartED and 1776 – and advised by leaders in EdTech and Artificial Intelligence, Kirby Salerno (Flocabulary, TenMarks), Bhaskar Sunkara (AppDynamics, Decibel VC) and Ashish Umre (Head of AI, AXA XL)
JoeZoo's Global Expansion Plans
"JoeZoo is on a mission to transform assessment for multiple segments of Education. While we started with K-12, we intend to leverage our technology and learning to create versions of JoeZoo for the Higher Education, Tutoring and Adult Learner markets," says Carl.
For K-12 and Higher Education segments they are going to prioritize deep integrations and enterprise sales to popular learning platforms, so that their team stays lean and engineering focused.
For the Tutoring and Adult Learning segments, they intend to be regionally focused, starting in Asia, where they will develop a 'white label' version of JoeZoo that their regional partners can sell under their brands, eliminating the need to build large marketing and sales teams.
"We aim to have products for all 4 segments within the next 5 years," Rakesh said.
Competition & Unique Value Proposition
JoeZoo's chief competitors are the status quo assessment methods, such as hand marking or using Google Docs or Microsoft Word comments, and apps such as Kaizena, Goobric & Doctopus, OrangeSlice, Formative, WriQ and GradeProf.
Unlike the status quo, JoeZoo is a complete toolkit, offering every tool needed for teacher, student and peer assessment, eliminating the inefficiency of switching app to app required by the status quo.
For teachers to assess student learning better, they need actionable intelligence while grading. JoeZoo is the first to provide teachers with a feed of intelligence, in real-time, so they know how to increase each student's use of feedback, can catch copying and reward improvements in writing effort, skill and quality.
While the status quo remains teacher-centered, satisfied with making traditional tasks easier for teachers, JoeZoo is transforming assessment by making it student and skills centered. Their 'smart' tools are designed to guide students, autonomously, to build their own writing and assessment skills, in any coursework, with no reliance on time-stressed teachers.
Lastly, the only way student writing proficiency is going to break through its 30% ceiling is if schools get actionable literacy data, every day, across all of a student's classes. That's impossible with the status quo, but with JoeZoo a school gains real-time literacy and assessment data for each student, in its existing learning platform, unified from all their classes and coursework.
JoeZoo's take on the changing world of education and especially assessment with the advent of AI
Using Artificial Intelligence to assess student writing literacy is extremely challenging, and is, therefore, being pursued by relatively few companies, of which JoeZoo is one.
Comparatively using AI to assess scientific or mathematical formulae is advancing far more quickly and by more companies, such as Gradescope.
Underlying both strands of AI-powered assessment is the recognition that class sizes will continue to increase, as will teacher workloads, so Education will need reliable and scalable technology to compensate.
Artificial Intelligence holds a great deal of promise to become that assistive technology, and JoeZoo aims to be at the vanguard.