The language learning industry is very competitive and there are currently too many players which makes it harder for users to choose the best products.
In a recent interview with EdTechReview, Luca Sadurny, the co-founder of MosaLingua, a language learning app that focuses on long-lasting memorization and tailored coaching shares how they distinguish in this market.
What would be an elevator pitch for someone who does not know about your product?
Our language learning apps help people to quickly learn languages using a unique approach that is based on coaching, and a method (called MosaLearning) which is based on several cognitive science and psychology concepts, such as the Spaced Repetition System, The Pareto Principle, the Active Recall. More info about our method here: http://www.mosalingua.com/en/our-apps/the-mosa-learning-method/
What is your company's core value proposition? What problem are you solving and for whom?
Helping people to learn a foreign language in the most effective and quickest way possible.
What parts of the globe have you seen traction from? Where are you planning to expand or market in the near future?
We have so far had traction in France, Italy, Spain, Germany, Canada, United States and Brazil. We are planning to expand to Asia (China, South Korea and Russia).
How do you plan to check on the user satisfaction?
We created several ways to check on our user satisfaction:
– we use a permanent poll which allows users to add their suggestions for improvements.
– users can rate the contents of our product and send detailed feedback.
Tell us about your recent study on "Learning while Sleeping".
We recently conducted a study called "Learning a Language During Sleep" in which we found that 67% of participants improved their memorization of words or phrases that they had previously been exposed to.
Video presenting the results:
https://www.youtube.com/watch?v=suhF3-WD6Mw
Infographic summing up the study: http://www.mosalingua.com/en/learning-a-language-during-sleep/
More details:
67% of participants of the MosaLingua study were thus able to improve their performance of memorizing vocabulary in a foreign language, thanks to being exposed to it during the first phase of sleep: Moreover, half of these people showed an improvement of more than 40%.
However, this great improvement was observed when participants were hearing words and phrases which they had been exposed to beforehand.
In contrast, the study does show that it is not possible to learn an unknown word or phrase during sleep. Only 28% of participants showed any positive results; which leads to the conclusion that it is only possible to reactivate prior knowledge during sleep.
How The Study Was Conducted
The experience was conducted for 2 weeks: several MosaLingua users tested the new functionality of the MosaLingua app, which allow users to listen to words and phrases repeatedly during the light phase of sleep. It is during this phase that our brain is more sensitive to external stimulation.
On alternate days, these participants were exposed to words that they were already trying to memorize, and to words that they had never seen or heard. The memorization performance of the participants from these alternating days was compared.
The founders of MosaLingua explain: "The results of our study confirm the findings of the various university studies which had inspired us to test this in the first place. In our opinion, nothing can replace actively learning a language (using the Mosa Learning ® method): memorizing new words and phrases, and being attentive plays a big role. But the results of this test lead us to conclude that, reviewing previously learned words and phrases during sleep, can have a positive effect on memorization.
Thus, it is important that this is looked into in more depth, as it could be an effective complementary method to use in addition to active learning."
The MosaLingua team will continue to study anonymous data of people using this function on the app, to pursue its mission of testing the most efficient ways of learning languages, in order to ultimately integrate them all into one comprehensive method.
What is the driving passion, why are you passionate about this product? What is your vision?
We are a team of language lovers, every member of our team speaks at least 3 languages. This is an important condition to join our team because in order to help people learn a language, you yourself must have been through the process too.
We also practice what we preach. Our whole team uses all the tools that we create, to be sure that they really work.
We truly believe that every time someone learns a language, his or her life, and the whole world is better off. Languages open doors and minds, and help people become closer.
One of our favorite quotes is:
"If you talk to a man in a language he understands, that goes to his head. If you talk to him in his language, that goes to his heart." (Nelson Mandela)
What is the stage of the product? Where do you see your company in 12 or 18 months from now?
Our product is mature : we already have more than 2 millions downloads of our various mobile apps from all around the world. But we are also in the process of creating new products to meet specific needs (pronunciation, using languages at work, etc.).
In 18 months our company will continue to grow and will increasingly add value to our users, we will be among the key players of language learning.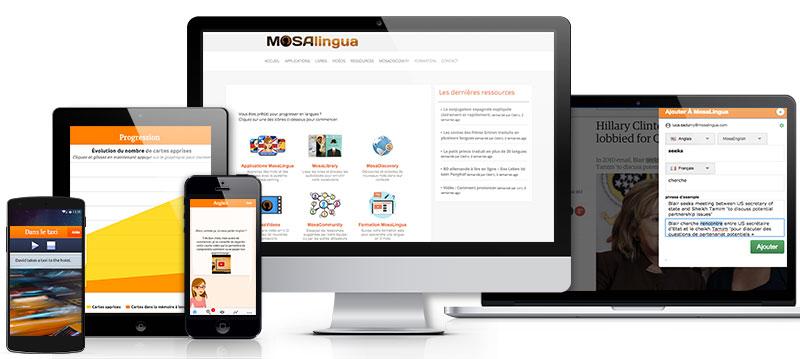 What is the biggest need for your startup?
Funding and Publicity.
What are your views about the growth of Education Technology or Language Learning industry globally?
It is predicted that sales of mobile language learning products will climb 73% to $14.5 billion by 2019. Innovation in the tech industry is advancing rapidly, yet educational tools are not keeping up. The language learning industry is being changed by the creation of tools, such as apps, bots, wearable and connected objects, which will revolutionize the way we learn languages.
Tell us about your team, who do you have supporting you? How did this start?
MosaLingua is a fully boot-strapped company created 5 years ago : co-founders wanted language learning to suit their personal needs. They tried to use what was on the market but were not satisfied, – we created the app for busy people who want to get quick wins and results.
Our Goal: to share our knowledge and services with frustrated language learners, who may have been trying for several years, and to show them that they CAN get results if they use the right approach and method.
What/Who motivates you? Any thought leader or companies with innovation which you follow for success?
Languages have completely changed my life. Without them I would be a completely different person: not so open-minded, not so blossomed, not so happy. What truly motivates me is this feeling to help people change their lives, thanks to languages.
My weapon to overcome daily problems and difficulties is the sense of reward I feel knowing how much language learning can change and improve people's lives.
Who would you call your competitors? And how are you different?
Our main competitors are Babbel, Duolingo, Memrise and Busuu (mentioned in this article with us http://www.huffingtonpost.ca/2016/02/03/learn-a-language-app_n_9150056.html)
Existing language learning apps, such as Duolingo, seem to work well for true beginners who just want to play and get started with a language. But it can be difficult to practice real verbal skills and progress to intermediate and advanced levels, whilst also using materials that have real life uses. MosaLingua's approach to learning languages differs in that it is like a personal language coach, which offers users a self-adaptive method, based on their own specific level and needs and lets them skip the content that's useless to them.
What are the biggest challenges of your startup?
The language learning industry is very competitive and there are currently too many players (hard for users to choose the best products). We have several ideas regarding how to use new technologies and innovations that will further improve the learning experience of people interested in languages. Our challenge is growing sufficiently so that we can obtain the means to transform all of our ideas into reality.