With social learning being a buzzword, a lot has been said about why teachers should adopt it. More often than not, social learning in online education is equated to using Facebook, Twitter, and other popular networks, which in fact are more about "social" rather than "learning".
Today, students, teachers and parents can build their digital citizenship on platforms specifically dedicated to learning purposes. Unlike Facebook, these are controlled environments that help avoid cyber bullying, anonymous posting, cat fishing, distraction and other typical downsides of social media. Here is a list of popular free educational social networks with ideas on how to use them best.
Ted-Ed
TED-Ed is the brainchild of TED, a famous non-profit organization devoted to spreading the ideas of the world's greatest thinkers. While the original TED talks are truly inspiring, when teachers first started using them in classrooms, they soon realized videos weren't fully aimed at a school audience. As a result, the new project was launched, and it's been growing in leaps and bounds ever since.
TED-Ed allows you to create interactive lessons around YouTube videos by adding multiple choice and open-ended questions, discussion prompts, and additional resources. Once a lesson is created, a unique URL is generated that can be used for inviting students. You can monitor students' progress and monitor their answers and comments in your account.
Before creating your first lesson, it can be a good idea to use sample lessons provided by other innovative teachers. The majority of the available lessons can be customized to your teaching needs, meaning that you can change the content and add your own (e.g., quiz questions). A huge collection of videos covers a wide range of subjects from Science and Technology to Business and Economics, so you're very likely to find the one for your class.
One more way to take the most of the platform is to start a TED-Ed club, encouraging your students to present their ideas in TED-style talks. Finally, you can even turn your lesson plan into an engaging animated video. TED-Ed is constantly on the lookout for talented educators who are ready to collaborate with the TED-Ed team.
TweenTribune
Somewhat similar to the TED-Ed platform, Tween Tribune enables teachers to create lessons around existing content, but this time articles rather than video. This way Tween Tribune helps students stay up to date with the latest news and develop reading and critical thinking skills. The articles' authors cover topics with the audience in mind: you won't find gossip news or crime reports here.
Start by selecting an article relevant to your subject. You can search with keywords or filter results by grades (from K-4 to K-12), topics, and even lexile level. I find the latter extremely useful when teaching foreign languages, as vocabulary size can differ drastically among different students. In this case, you could divide users according to their lexile levels and assign articles correspondingly.
Each story is accompanied with a ready-made reading comprehension quiz, so when you assign an article to a student, s/he needs to read it first and then answer the questions. Once a test has been passed, the results are automatically sent to the Classroom Gradebook. Since these quizzes are really short (only three questions long), you may want to include additional open-ended questions. Students can share their opinions in comments, which can be either private or public, approved or not – you decide.
If you're practicing blended learning, take a look at Tween Tribune's lesson plans. They are organized in a way to meet certain Common Core standards for different grades. Overall, Tween Tribune offers fewer capabilities than the other educational social networks described. However, it can be used in conjunction with other solutions as a way to assign and manage reading assignments.
Edmodo
Edmodo is a popular free K-12 network that helps teachers inspire their students and colleagues, as well as get inspired by them. This is a communication platform where educational topics, resources and documents are constantly shared and discussed both publicly and in private groups (classes).
With Edmodo, you can assign homework and set up due dates for it. The platform has integrated quiz- and survey-building tools, albeit pretty basic in functionality. Since Edmodo supports digital resources, you can design more advanced assessments and upload ready quizzes as attachments. This will also allow you to track more detailed results and provide students with personalized feedback depending on their answer choices.
In turn, students can take tests, "hand in" assignments, monitor their progress, respond to posts and post themselves. Plus, here users of different age find themselves engaged with educational games, and one of the most challenging among them is Expii. Actually, it's not a game, but a whole number of creative thought-provoking problems that develop analytical thinking in a fun way. The problems are unified around certain topics and subject areas, including Algebra, Geometry, Earth Science, Biology, and others.
One thing about Edmodo that I personally admire (and not only me) is that it gets entire families involved in the studying process. Parents can create accounts and check upcoming, turned in and past-due assignments, as well as important classroom announcements.
For more inspiration, check out these first-hand teacher stories about using Edmodo in the classroom.
Wikispaces Classroom
Wikispaces Classroom is another social platform that is free for educators. Built as a classroom management solution, it's already been adopted by more than 10 million teachers all over the world.
Get started by inviting students and parents (why not?) and sharing announcements, schedules, and other useful information with them. The platform's newsfeed is similar to those of popular social networks, so users will instantly feel familiar with it. As new members register, participate in discussions or contribute materials, and you'll be able to monitor their activity.
Just like other famous wiki websites, Wikispaces allows users to edit pages collaboratively, which is a great way to encourage students to get involved. By producing information rather than simply consuming it, they also learn to take responsibility for its authenticity. Additionally, you can define teams and assign projects to them, so that students work in small groups and learn to resolve tasks collaboratively.
TeacherTube
TeacherTube is often called YouTube for teachers, as it hosts educational videos for students of various grades. Each of the 1 million videos presented on TeacherTube is suitable for classroom use, as the website regularly checks new content to ensure its appropriacy.
Apart from videos, TeacherTube stores audios, images, docs, and pre-made content collections. Both teachers and students can upload their own media too, and decide whether to make it public or private. You can also create channels, collections and playlists and share them with your students.
While TeacherTube is made for finding and storing materials, an additional service, TeacherTube Classrooms, will help you organize communication with colleagues, students and parents. Here you can design an online page for your classroom, populate it with posts, and even customize its appearance to match your taste. It's also possible to utilize TeacherTube's materials for it. When your classroom page is ready, you can easily enroll new members and monitor their activities.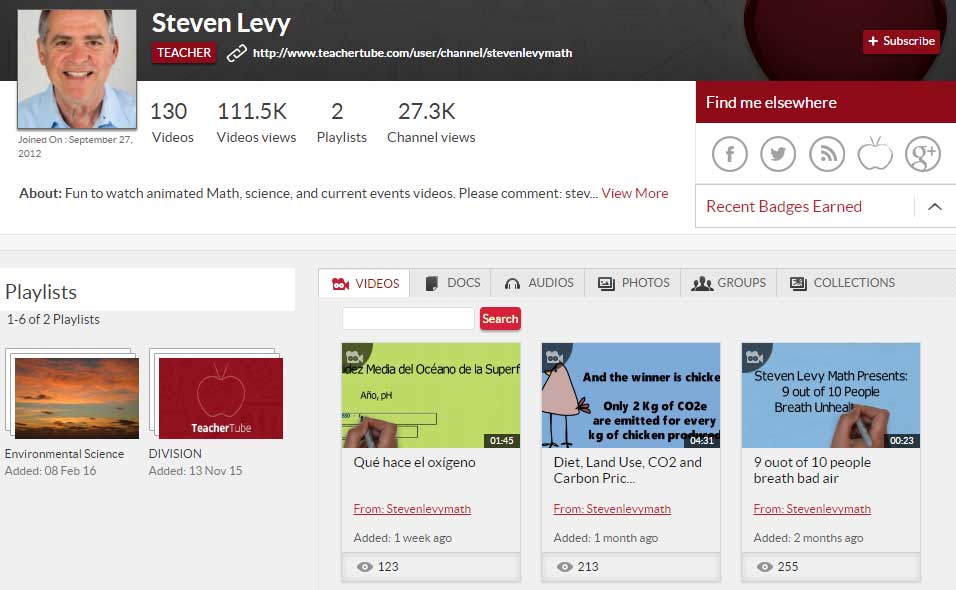 Social learning doesn't happen in traditional classrooms only – in fact, it often thrives more outside of it.
These educational social networks have been developed to help you continue the learning conversation when a traditional lesson is over.
How do you leverage modern technologies for organizing social learning opportunities? Feel free to share your ideas and stories in the comments below, just like your students would do.