This is a webinar for EdTech startups, entrepreneurs, & investment community organized by EdTechReview in association with AWS EdStart.
Traditionally (about 5 years back), a fresher out of university/college would be picked up and trained by a recruiter irrespective of mismatched education-to-employment skills. This skilling gap, training period and cost of training to a company have increased every year.
Seeing this; many edtech companies have come forward with solutions to support college students in internships, job and career prep, upskilling and reskilling, amidst the tightening career demands.
Even the investors are excited to see this lucrative market as a new ROI opportunity, especially in India, due to the massive number of graduates who come out of colleges every year.
Friday, 28th Jan 2022 @ 04 PM (IST)

Registration Closed
The panel of leading founders and investors will focus on:
Education-Employability Skills Gap and Opportunity
Demand for quality internships, career guidance, job and placement preparation
Demand of skilling, reskilling & upskilling
EdTechs' role in supporting students, educational institutions & recruiters
Investors' view on this segment and what they find interesting
Future of skilling, upskilling, internships, job & placement prep market & more.
Expert Panel:
Ravish Agrawal
Co-Founder & CEO, Able
Ankit Aggarwal
Founder & CEO, Dare2Compete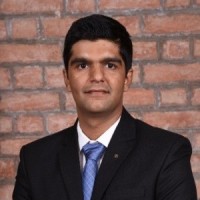 Manish Advani
Investment Professional, Elevation Capital
Mohammed Zeeshan
Co-Founder & CEO, MyCaptain
Utkarsh Lokesh
CEO & Editor, EdTechReview (Moderator)
Friday, 28th Jan 2022 @ 04 PM (IST)
Registration Closed
Who Should Attend:
EdTech Startups, educational founders, entrepreneurs, EdTech segment heads and managers, investors, incubators, accelerators, higher education institution leaders and consultant, etc.
About AWS EdStart
AWS EdStart, the AWS educational technology (EdTech) startup accelerator, is designed to help entrepreneurs build the next generation of online learning, analytics, and campus management solutions in the AWS Cloud. The program is designed with specially tailored benefits to enable EdTech startups to move faster. Learn More.
AWS EdStart Member Application | AWS EdStart Innovator Application