EdTechReview (ETR)—in association with AWS EdStart and Uincept—hosted a webinar on Friday, 22 October 2021, on "Exploring the Untapped Categories in Indian EdTech".
The education market in India is massive yet highly under-utilised. To address this gap and wasted opportunities in the Indian EdTech market, ETR's webinar brought together the industry dignitaries to share EdTech insights and opportunities.
The speaker panel had the following dignitaries:
Divanshi Gupta
Founder & CEO, Ucanji
Shubham Goyal
Co-Founder & CEO, Cerebry
Addison Appu
Vice President — Investments, ThinKuvate
Manish Upadhyay
Advisor, UIncept (Moderator)
Here Are A Few Snippets From The Webinar:
With funds being dumped into the EdTech space and players moving with a horizontal industry approach, the session started with the panellists talking of the untapped potentials and the void in the EdTech ecosystem.
The inability of traditional content to dive deep into the student knowledge base and how existing EdTech solutions are solving the problem.
Shubham Goyal, Co-Founder & CEO of Cerebry, started the session by addressing the key challenge in EdTech: the shortcomings of the learning content in the industry. He said, "The human-created content is ineffective, and we, at Cerebry, are handling it through machine-generated content." He explained how Cerebry AI's generative approach helps students gain deep subject knowledge, leaving no room for doubt or error.
"Static question banks are ineffective," he said, "With a static question bank, you can't give every student a different question. It is impossible to tag every skill and concept in a single answer. A simple question on differentiation involves an understanding of 30+ concepts and skills. It is impossible to do effective adaptive learning with static question banks! We at Cerebry are not predicting anything; we are going one level deeper than human-created question banks. Human created question banks treat questions as black boxes, but a generative approach allows Cerebry to know everything about a question. We have an engine that understands the domain knowledge."
Skill development for a child's holistic development and the responses from parents, schools, and educators.
Divanshi Gupta, Founder & CEO of Ucanji, shared her journey of bringing extracurricular activities online. She shared her take on the importance of holistic education and the response of key stakeholders in the space.
"India has largely seen EdTech centred around academic facilitation," she said, "But holistic education is not just about a child's intellectual ability. It is also about a child's emotional intelligence, confidence, social abilities, creative mindset and a lot more. After a point in time, these skills become essential for one's happiness and success in life, especially in the 21st century."
Divanshi then talked about parents, schools, and regulating authorities, saying, "They have come to a point where they realise the importance of mental well-being and the role these skills have in that. With platforms like Ucanji, students can imbibe all those right from an early learning age."
She raised the critical challenge of implementation and shared how their solution—Ucanji—is solving the problem. "The part that deals with implementation is where our platform comes into play. We bring an interactive platform to students that offers simple, affordable, and accessible skill development for children across India. We focus on convenient, scalable solutions by bringing vernacular and—most importantly—affordability into play so everyone can access it."
She also shared her take on what sets Ucanji apart from competitors like Sparkstudios. She used stats from a Ucanji study to show how skill development and extracurricular activities positively impact a child's academics, amongst many other things. Watch the webinar recording.
Investor's take on critical metrics to secure funding, the gap in the education system, and the importance of vernacular.
Addison Appu, VP-Investments at ThinKuvate, vocalised the importance of vernacular. He took the example of Vidyakul and talked of the key factors that made it a viable investment from an investor's point of view. "I believe if you educate a society," he said, "half your problems are solved." He also pointed out that EdTech is 'one of the hottest sectors in the investor community'.
He also mentioned how Vidyakul added much value to the EdTech ecosystem by allowing students to learn in vernacular, eradicating the pre-set notion of English being a prerequisite or mandatory medium of instruction in the digital space. He said that Vidyakul's pitch was perhaps the first-ever that fascinated their team. "The platforms' vernacular capabilities are evident in how well it is performing in major states like Gujarat and Uttar Pradesh," he said, "…its approach of becoming the 'Bharat ka School', majorly in tier 2 and 3 Indian cities, ensures that students from state boards or sectors unable to afford solutions like BYJUs, get to learn without facing a language barrier."
The investor-on-board further explained the existing gap in the education system by saying that itis utterly theory-based with no emphasis on the knowledge of it being used in real-time.
"Within the education space," Addison said, "there are two broad aspects: content and delivery. Vernacular comes into play in the delivery aspect, where you impart content using vernacular in the best possible manner, so learners grasp it in a way that enables them to use it in the future. These are the basic things from which an education platform creates value. Apart from vernacular, affordability is a major factor in India."
There were live polls between the discussions to get the pulse and opinions of the audience and other EdTech founders & investors on what they feel about the state of the EdTech ecosystem, the existing EdTech categories, and the potential of the sector. Here are the results from the polls: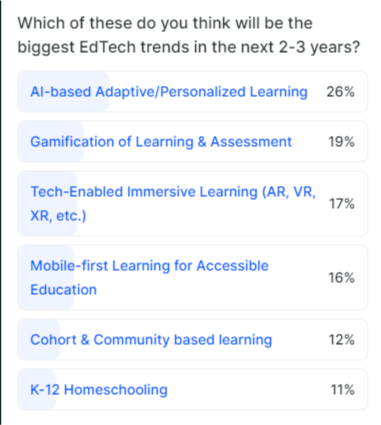 Seventy-nine per cent of people saw a shift in how parents value holistic skill development and do not single-mindedly focus on academics.
Sixty-five per cent of people see an increased focus on learning outcomes by edtech founders in the last few years.
Fifty-six per cent of people are exploring the AWS EdStart Program, and twenty-five per cent would like to explore more in this space.
The 'One Big Bet on the Untapped Category' Our Speakers Would Make If Given A Chance
The webinar closed with a rapid final round where all the speakers provided their inputs on one key challenge or untapped category they would like to address in the EdTech ecosystem if given all the funding and support needed.
Shubham Goyal said that he would like to invest and explore the concept of virtual chemistry labs more deeply. "It's fascinating and holds great value for the education in future," he said.
Addison Appu sad that the overlap of EdTech and job tech is one category all must pay attention to. "No player in the market is addressing this gap," he said, adding that, 'students are becoming job-ready, yet unable to connect with the right employer'. He also said, "Every employer today is struggling to hire people who are employable."
Lastly, Divanshi Gupta said, "The current state of EdTech in India still has much potential that needs to be addressed." She currently believes that many avenues are still going for the offline-to-online transition. "Right now," she said, "the question is how we can scale it to reach the last mile audience, so the current untapped segments get utilised and reach the audience for whom they're built."
The webinar had discussions around other critical topics like learning outcomes, the importance of engagement and various metrics to measure it in holistic education, revenue potential, critical metrics that speak the value of an EdTech solution as per investors, and a lot more.
Learn more about the EdTech ecosystem and the untapped and existing categories in the Indian EdTech space with this webinar's recording, Q&A session, and polls. The webinar is a must-watch for all EdTech founders and investors interested in the space and anyone keen to learn more about the Indian EdTech industry.
This webinar was brought to you by EdTechReview in association with AWS EdStart – AWS educational technology (EdTech) startup accelerator, designed to help entrepreneurs build the next generation of online learning, analytics, and campus management solutions in the AWS Cloud. Learn more about the program.
Become an AWS EdStart member or Become an AWS EdStart Innovator
If you would like to host a webinar with EdTechReview, please get in touch with us on sales[at]EdTechreview[dot]in