Korean, one of the popular Asian languages for non-native speakers, is the official language of the Republic of Korea (South Korea) and the Democratic People's Republic of Korea (North Korea).
This is an increasingly important language globally considering South Korea's powerful economy, geopolitical importance, and growing presence in Asian pop culture; perhaps one reason for garnering a surprising amount of interest in people worldwide to learn the Korean language.
Moreover, by learning Korean, you can connect to about 80 million people around the world. It can assist you in preparing for your future. Also, knowledge of another language and appreciation of other cultures are skills that last a lifetime. Whether your interest in world affairs, technology, business, or just broadening your mind, learning the Korean language will leave you with knowledge and understanding that you will use again and again.
In this post, we have enlisted some of the best Korean language learning apps compatible with Android, Apple and Web.
You no longer need to hit the class to learn Korean languages. These top apps to learn Korean will help you master the language while sitting at home.
Let us check them out! (*Not in particular order)
LingoDeer
No list of best language learning apps can be complete without Lingo Deer. It is amongst the best Korean language-learning app. The main focus of the application is on Asian languages, including Korean, Japanese, Chinese and Vietnamese. LingoDeer provides an innovative and fun approach to learning that will allow you to speak from day one and progress toward mastery.
The lessons begin with a basic approach. You can intuitively feel your improvement and progress. Unlike many others, lessons incorporate vocabulary, phrases, and culture organically. This Korean language-learning app also has various lessons based on quiz formats to make learning fun and engaging.
Compatible with: iOS, Android and Web
Drops: Learn Korea
With over 31 free languages to choose from, Drops is also popular for teaching the Korean language. The short and gorgeous puns in the app make learning a new language fun.
This Korean language-learning app prioritizes vocabulary and phrase learning above other topics like grammar. It proceeds rapidly, incorporates various things like games and quizzes, and gives you a pretty decent mental workout. The free version of Drops lets you learn five minutes a day. You can learn Korean with wonderfully illustrated, immersive and engaging lessons in just five minutes per day. However, you may sign up to extend this time limit. The app provides 2,000+ Korean words to learn from; it helps create memorable visual associations with new words, helps practice your vocabulary and review the words you have learned.
Compatible with: iOS , Android and Web
Learn Korean by Bravo Language
Learn Korean by Bravo Language is an excellent language-learning app. This app proposes practical words and phrases neatly organized into categories such as "Thank you!" "How much?" or what kind of colours do you have?"
For each piece of vocabulary you click at, the application speaks aloud, gives the usual Hangul/Romanized spellings and audio clip in addition to the option to listen to the audio at a slower speed or to record your voice for comparison.
This Korean language-learning app comes with both a free and paid version. Learn Korean by Bravo Language is also expanding steadily and offers the option to follow on Facebook and Twitter for updated categories.
Compatible with: iOS and Android 
Duolingo
One of the most popular language-learning apps on Google play, Duolingo supports many languages, including Korean. This language-learning app takes a simple approach to language learning. It allows you to build up a variety of vocabulary words and phrases slowly. Meanwhile, the app connects with you, and you learn the Korean language. It seems fairly effective. Duolingo claims that 34 hours of the app equals a semester of university-level education. The application has both a freemium version.
Compatible with: iOS, Android and Web
Memrise
Memrise supports dozens of languages, including many Asian like Korean. It blends a large number of philosophies into a single application. This includes a social component with native people who speak the language you want to learn. Moreover, it has grammar and vocabulary lessons, quiz, offline support, a pronunciation guide (with audio), and many more. These features cost money. However, Memrise is not for an occasional learner. The pairing with Duolingo, Hello Talk or Tandem is a very good combo.
Compatible with: iOS , Android and Web
Learn Korean | Koreanclass101.com
Another Korean language learning app, KoreanClass101.com, is an innovative and fun language-learning app that teaches the Korean language and culture at your convenience and pace. This platform consists of free daily podcast audio lessons, video lessons, Korean Word of the Day. Learn Korea contains progressive levels designed to teach Korean in a simple, comprehensive manner.
Moreover, you can also track your progress through multiple vocabulary and grammar lessons. This Korean language-learning app comes with a seven days trial version and charges for Lifetime Account!
Compatible with: iOS
TenguGo Hangul
Designed especially for beginners, TenguGo Hangul mainly illustrates the pronunciation of the Korean alphabet through audio and animated demonstrations of mouth and tongue position. The app also includes vowel and consonant charts and instructions for reading and writing in the Korean language. The content of the app is rather limited, but the animations are clever and clear. TenguGo Hangul is a charges-free application.
Compatible with: iOS and Android 
KORLINK Talk to Me in Korean (TTMIK)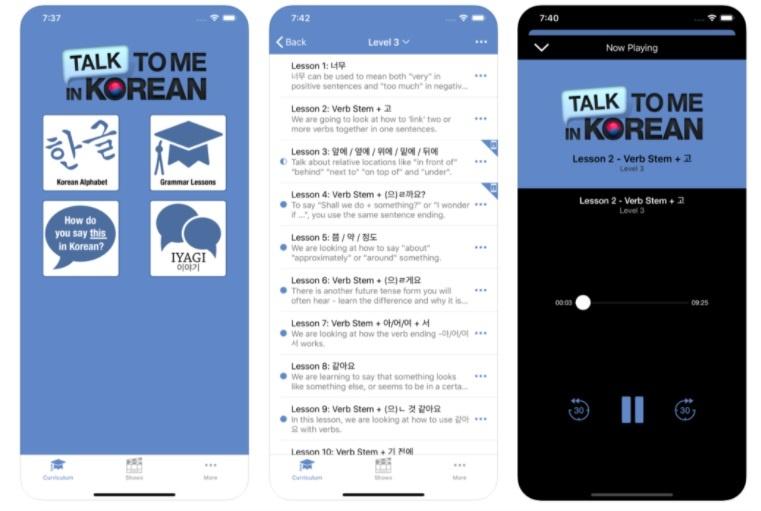 Talk to Me in Korean (TTMIK) has grammar lessons that provide a great starting point for those looking to learn or master their Korean language skills. Those new to the Korean language can begin with the grammar lessons, building your knowledge of vocabulary, phrases, and grammar rules as you progress through the levels. This Korean language-learning app also has material for intermediate to advanced users. It also includes a 한글 (Hangeul – the Korean alphabet) intro, reference, and keyboard practice.
Compatible with: iOS and Android
Dongsa
Dongsa is a fantastic Korean language-learning app that teaches all of the different Korean verb conjugations and also helps improve Korean writing skills. 
It has a free and paid version. For paid version, the app costs 99 cents and unlocks more features.
Compatible with: iOS and Android
Teuida
This Korean language-learning app helps you to learn Korean by actually practicing it. Teuida app simulates real-life conversations; some with K-pop star Nancy Momoland that will get you speaking Korean right away. Teuida has one of the unique approaches towards learning Korean and probably one of the best free options for more speaking practice. This application is best for those looking for an interactive and fun way of learning Korean. The simulations are engaging and perfect for Beginners who want to speak Korean confidently. In Teuida, the first chapter of every level is free. The premium plans cost $9.99 per month, $20.99 for three months, and $59.99 for 12 months.
Compatible with: iOS, Android and Web
NAVER Korean Dictionary
Regarded as the best Korean dictionary app, NAVER contains thousands of words, idioms and phrases complete with audio pronunciation and explanation. The application works offline and also translates words and sentences provided by Papago built into the app. 
Moreover, it allows you to perform self-study, i.e. lets you teach yourself to understand things without somebody's interference.
FunPik is a global Korean language learning application that can effectively enhance the ability of foreigners to prepare for the Korean Proficiency Test (TOPIK). The application was launched by IDESIGNLAB Co., Ltd., a Korea-based edtech company.
FunPik has an enormous collection of content to make it easier to learn the Korean language and culture at the same time.
The application has a Lee Do character who plays the role of a facilitator and the function of collecting relics of historical value through travelling to the eight provinces of Korea.
The app provides customized learning for every individual through algorithms that diagnose the ability of language users and recommend content tailored to vulnerable levels and types. It provides various game features that can improve vocabulary and grammar, which is possible to learn repeatedly without feeling bored with the structure to receive rewards when learning.
Compatible with: iOS and Android.
What is the best way to learn Korean?
Once you have selected one of the best apps to learn Korean, it is your responsibility to get the best education. Your motivation and efforts can make all the difference so that these Korean applications work for you. Here are some steps you can take to maximize your success with the best Korean apps:
Daily practice: Repetition is key for language learning. With daily practice, you can advance quickly with Korean and speak fluent quickly. The best application will be fun enough to give you the desire to come back lesson after lesson.
Make sure you speak: The only way to attain mastery of the foreign language is to speak the language. And this is exactly what you must do, even when you learn Korean with an app. Practice pronunciation daily to be comfortable with the Korean language.
Use other resources: The truth is that even the best Korean applications cannot teach you the full language. The best you can do is combine application lessons with reading books, watching movies and singing songs in Korean. This is the best way to obtain a complete Korean education.